Freeport, Grand Bahama island - During the final months of 2012, Conservation Leaders, Researchers and Nature enthusiasts from the Caribbean and Bahamas joined forces to celebrate and promote public awareness surrounding the miracle of Bird Migration. While there are threats of development and illegal hunting that continues to endanger the habitat of birds, nearly 350 species of these birds make their annual migration between their summer homes in the U.S. and Canada and their winter homes in the Caribbean, Bahamas and South America.

This year the Garden of the Groves was again able to highlight the importance of preserving habitats for these migratory Birds. As we focused on the theme, "Connecting People to Bird Conservation." The Garden of the Groves team headed by Mrs. Marilyn Laing launched activities early. During the month of September, notification was sent to all schools on Grand Bahama Island about pending schedule.
For the second annual IMBD Art Competition students received guidelines for the competition. The judging was held at the end of November, however, we thought to give them ample time to get their pieces done.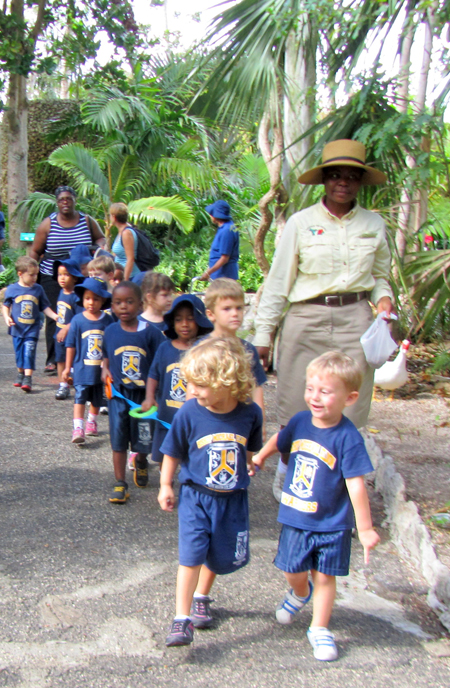 Bishop Michael Eldon Primary students on fieldtrip with IMBD co-ordinator Marillyn Laing


This year we created four categories namely: Preschool , ages 3 -5, Primary ages 6 – 11, Middle school ages 12-14 and senior High School ages 14 – 17. The winners were as follows: One preschool entry was named first place, Anella Dekari of Tabernace School. In the Middle school only one entry, Khalia Wright of Sir Jack Hayward School.

In the primary division, first place went to Alyssa Turnquest of Mary Star School, second and third places went to Wannisha Hanna and Cyiah Willis also of Mary star of the Sea School.

In the High School division, Sir Jack Hayward School received triple honours as their student s won first, second and third places. Melvin Dixon received first place, second went to Terrance Bain who was also a winner in last year's competition and third went to Dexter Ingraham.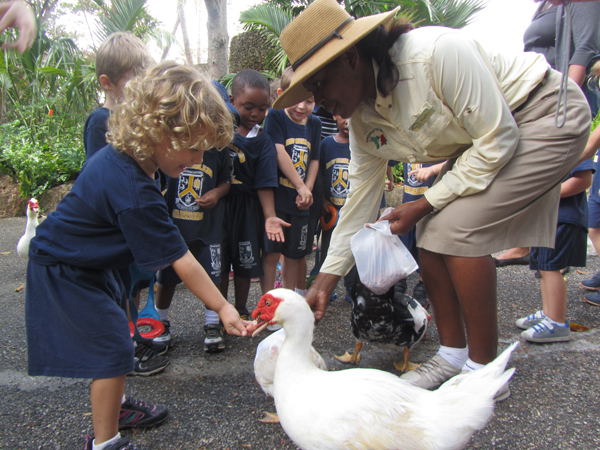 First encounter with a "real" bird


Students from Grand Bahama traveled from the east and west settlements to attend the field trips to the Garden. As during previous years they were given talks on protecting the habitats of birds on our island. Lots of smiles could be seen at the end of each trip when they received Bird Buddy Bands, stickers and posters sponsored by the SCSCB. This year we were able to host about 249 students.

Each year as birds travel over long miles between their winter and summer homes, we on Grand Bahama would continue to anticipate their arrival and discuss the many ways we can Connect People with Bird Conservation.

Erika Gates of Garden of the Groves expresses her appreciation for the Society for Conservation and Study of Caribbean Birds (SCSCB) who supports the annual bird conservation programs throughout the Caribbean and the Bahamas by sponsoring posters, coulouring books and the popular "Bird Buddy Bands".





Erika Gates – Bird Talk: owner of Kayak Nature Tours (one of the first Eco-Tour businesses in The Bahamas); co-founder of the Ecotourism Association; a published writer; and a Cacique award winner! Her column Bird Talk will enlighten and educate us about birds of The Bahamas, as well as the importance of Ecology. Erika can be reached at gbntours@hotmail.com