Last Updated:

Feb 6, 2017 - 2:32:04 PM
---
Freeport, Grand Bahama - Some of you remember last year's trip by kayak to Peterson Cay to survey the Bridled Terns nests and young. Our researcher friend Irene Lieu captured the photo of a chick hatching from the egg as mother is watching!

This Saturday's field trip is planned to Peterson Cay where we are planning to erect signs and barriers to protect the Seabird nesting colony. We also want to record the species that have arrived to date on the Cay.

The trip is sponsored by Grand Bahama Nature Tours and we will leave in the company's boat from GBNT's base at 8:00am near Cove House.

We have 10 seats available - so please call to reserve.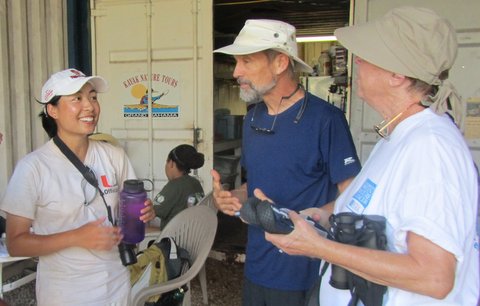 Erika Gates
is the
owner of Kayak Nature Tours (one of the first Eco-Tour businesses in The Bahamas); co-founder of the Ecotourism Association; a published writer; and a Cacique award winner! Her column

Bird Talk

will enlighten and educate us about birds of The Bahamas, as well as the importance of Ecology. Erika can be reached at

gbntours@hotmail.com

or (242) 373-2485





© Copyright 2012 by thebahamasweekly.com

Top of Page