Freeport, Grand Bahama Island - Quite a few migrants have arrived at the Garden and we look forward to welcoming them this coming Saturday at the next Bird Walk. We have observed Ovenbird, Northern Waterthrush, Black Throated-blue Warbler, Prothonotary Warbler, American Redstart and even Wallace, our winter resident Great Blue arrived last week.

We have also two new permanent residents: "Como", the rehabilitated Cormorant that is unable to fly but can fish like a pro!

Then there is "Ivan", the Red-tailed Hawk that was found by Ivan Reid hanging in a tree near his house with his wing wrapped in fishing line. Ivan cut the tree and brought the bird to us at the Garden. After a day or two Gangrene set in and the wing was amputated by Dr. Gibbs at the Humane Society with the assistance of Robert Eiser from UNEXSO.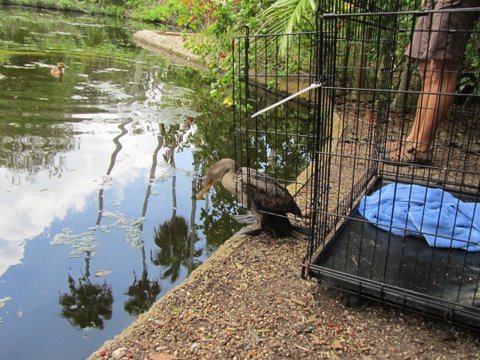 Robert, a trained and certified Falkener, nursed the bird through his critical days and we prepared an aviary for "Ivan" at the Garden. Ivan moved in last weekend and he is ready to be admired!
Come out and see us all this Saturday 8am and enjoy the morning coolness and our winged friends!