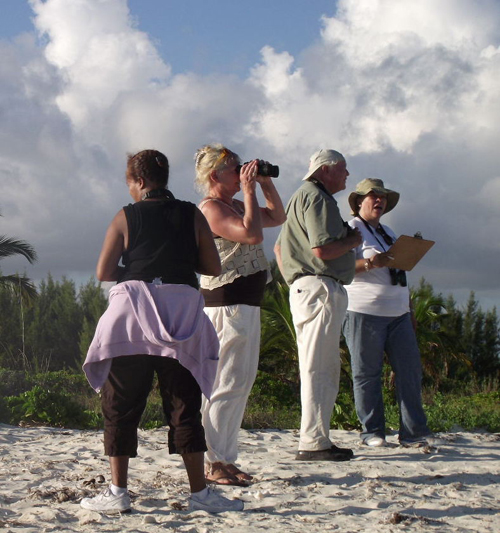 Dr. Elwood Bracey and his team during 2012 CBC


Freeport, Grand Bahama Island - The annual Christmas Bird Count (CBC) is conducted in the United States, Canada, the Caribbean and the Bahamas by over 500,000 birding enthusiasts. Birds are counted in the same areas each year for one day from sunrise to sunset during the months of December and January. By participating in this count Grand Bahama Birders contribute valuable information to the longest running database in ornithology.

The primary objective of the annual count is to monitor the status and distribution of bird populations across the Western Hemisphere. When counts are entered into a database, we begin to gain a clearer picture of how bird populations have changed over the years. This information is also vital for conservation. For example, local trends in bird populations can signal immediate environmental threats, such as groundwater contamination from extensive use of pesticides and chemical fertilizers.

The first "Christmas Bird Count" was held over 100 years ago in the United States. Up until then it had been a tradition for persons that enjoyed the outdoors to engage in the "Christmas Bird Hunt". People would go into the fields and forests in teams and shoot any bird they came across. At the end of the day, the team that brought in the biggest pile of dead birds, was the winner! Many people became concerned about the indiscriminate, senseless slaughter of these beautiful feathered creatures and also worried about declines in bird populations. Ornithologist, Frank Chapman, an officer in the growing Audubon Society, an environmental movement, called for an end to this barbaric tradition. He suggested that, rather than shooting birds, they should be counted instead. So began the Christmas Bird Count. Thanks to the inspiration of Frank Chapman and the enthusiasm of 27 dedicated birders, on December 25th in the year 1900, twenty-five bird counts were held throughout the United States.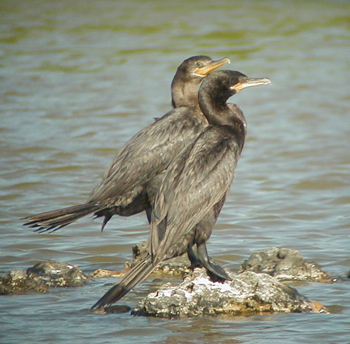 : There are many Double-crested Cormorants on Grand Bahama, however, this species observed during count day is a rare Neotropic Cormorant


On January 5th forty Grand Bahama Birders gathered in five teams that were led by experts from the US, Nassau, Abaco and Freeport. The teams met for an orientation and social get-to-gether the night before at Junkanoo Beach Club where manager Mark Neely and his mother, Monica, hosted the group to a delicious chicken souse.

Team leaders were Dr. Elwood Bracey from Abaco, one of the outstanding birders in the Bahamas. "Woody" as he is affectionately called, set the record in 2012 by having observed 243 Bahamian species in one year. He travelled to many islands across the Bahamas during 2012 and recorded more birds during that period than any other birder in the Bahamas!

Bruce Hallet from Atlanta, joined the count again this year as a team leader. He is an expert in Bahamian birds and an outstanding photographer. Bruce co-authored the American Birding Association's Bird Finding Guide to the Bahamas with Anthony White. He also published the first photographic fieldguide "Birds of the Bahamas and the Turks and Caicos Islands". Local birders love to be on Bruce's team as he is not only a great teacher and inspiration to beginning birders, but he also puts his team at ease with his wonderful sense of humor!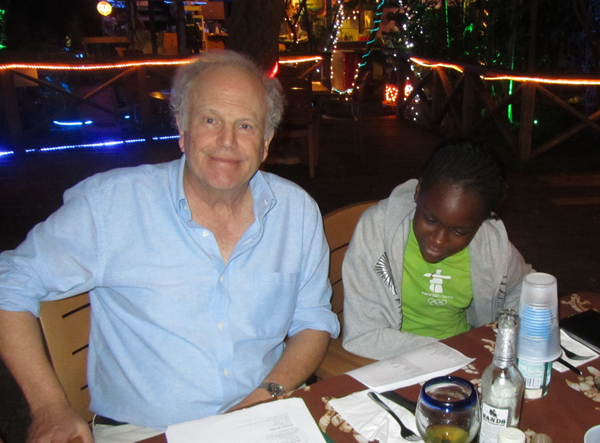 Bruce Hallett compiling his list with young birder Dwiesha Swann
Carolyn Wardle flew in from Nassau to lead as well and anybody on her team needed to be in good shape as Carolyn never tires! She only recently retired from leading the Bahamas National Trust Ornithology Group where she inspired many residents and visitors of New Providence to become interested in birds. Carolyn is the owner and operator of Bahamas Outdoors. She organizes birding and biking trips in Nassau and also leads birding excursions to Abaco and Andros.
Shamie Rolle of Calabash Ecoadventures lend his expertise to the count once again. His group did not stop until darkness. Shamie is always a wonderful role model for the young and upcoming birders on his team. His passion about birds and their habitat are matched by his knowledge about the environment and the marine life of the Bahamas.
Bruce Purdy, the count compiler, traveled from Florida to Grand Bahama again this year to add up the results of the day's birding during the "tally rally" and dinner at Garden of the Groves that all participants look forward to. Bruce not only lead a team as well but he will also be submitting the count results to the Audubon Society. Having lived for many years on Grand Bahama, he is not only an expert birder but also very familiar with birding sites on the island.
Erika Gates of Garden of the Groves who has been organizing this annual birding event over the past 8 years was delighted with this year's results: "We recorded 103 bird species on count day and will be able to add another 7 from count week bringing the total to 110. I am pleased about the number of participants which seems to increase each year, and I am especially happy about the growing interest in birding by several of our staff members at Grand Bahama Nature Tours".

Would you like to learn more about birds? Garden of the Groves with support from the Bahamas Ministry of Tourism conducts an annual Basic Birding Course on four consecutive Saturdays in March. This is a great opportunity to learn bird identification, become familiar with their habitat and get to know Grand Bahama's ecosystems. For more information call 242-374-7778 or check on the web www.thegardenofthegroves.com under "Birding" and "Workshops"