Last Updated:

Feb 6, 2017 - 2:32:04 PM
---
There are many farming expos that take place around the world at any given week. Recently I was fortunate enough to visit "The Florida Small Farms and Alternative Enterprise Conference" in Orlando. The hosts of this event were two land grant universities, the University of Florida and Florida A & M University. This is the 4th year of this event under the theme "Educating Entrepreneurs to Strengthen Local Food Systems. "

With over 800 persons in attendance, there was much excitement among both the participants and audience alike. The buzz in the room felt electric, as if a rock star was about to perform and I must say they did not let us down. Undoubtedly, this was one of the best decisions I made for the year. I would recommend visiting this event to anyone interested in farming—both big industry guys, and beginners alike.

The diverse speakers at the event did an outstanding job of keeping the audience begging for more. It started with Friday's session under the theme, "Starting and Managing Successful Farmer's Markets". The focus was well detailed about the markets in Florida, their growth as well as the many challenges they continue to face. This session's speakers all got high marks from me.

The 3 day event covered every aspect of farming from the ground up; from hydroponics, organics, drip irrigation, cut flowers/ foliage production, livestock and poultry production to biological and chemical insect control just to name a few. My personal favorite was the session on the identification of "good bugs and bad bugs", particularly since the biggest problem in my backyard garden is bugs, for as any organic backyard farmer will tell you bugs are both a blessing and a curse and the identification of these bugs is of the utmost importance.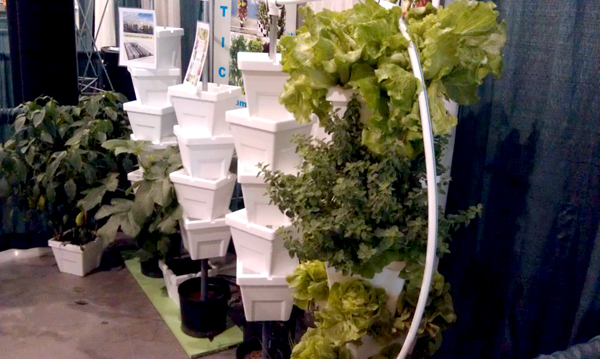 We were given a real time pop-quiz both at the beginning and at the end of the session, making it one of the most interactive sessions of them all. We were even able to get an up close look at these bugs under a microscope as well as view video material of the same.

From my perspective, the "must see" of the event was the Renewable Energy session that included a bio-diesel truck demonstration and wood-powered vehicle. This particular truck runs on old scraps of wood with a furnace built in the back which supplies the power that makes it run smoother than my present vehicle; plus you get 50 miles from the waste material that would have ended up in our landfills. This is spectacular ingenuity at its best.

The great thing about this event went far beyond the vast amount of information shared by the presenters. It was about how the information was broken down, step by step, and the willingness of the experts to go beyond what was expected; sharing the good, the bad and the ugly side of an industry which has the potential to make or break a nation. I would advise anyone who is interested in farming to visit this expo next year or any expo for that matter. It's inspiring and empowering to have a panel of enthusiastic, hands-on farming pioneers share their stories, struggles and triumphs.

I would gladly visit The Small Farm Conference every year and invite my friends to do the same.

More info: The Florida Small Farms and Alternative Enterprise Conference

About the Author

: Luckner Timothee is a backyard Farmer in Grand Bahama since starting his garden a few years ago he has wooed his friends with his produce and creative farming ideas. He continually learns from his friends and family about the process of farming and the struggles that a farmer goes through daily. He is now working on a Web show called "Let's Grow Bahamas" to be released on "Grand Bahama Backyard Farmers". He is attending seminars in order to meet other farmers around the world and to further his knowledge about Farming. To contact Luckner Timothee email him at:
bahamafarmers@live.com





© Copyright 2012 by thebahamasweekly.com

Top of Page