Last Updated:

Feb 6, 2017 - 2:32:04 PM
---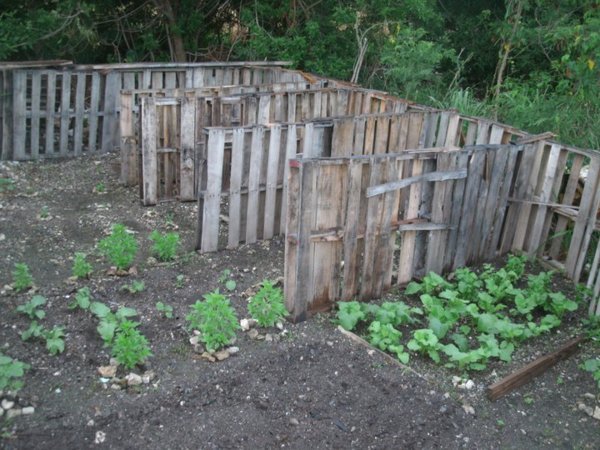 In a world where there are more than a billion people on the planet, it is becoming the norm to think about the possibility of a food shortage. What if, by some stretch of the imagination, sometime in the future grocery stores aren't able to keep up with the demand for food? Enter Backyard Farming, an initiative which has recently been formally reintroduced to the Bahamas in an effort to encourage more farming and making each household more self reliant.

In all honesty, it would not take much for the above scenario to become a harsh reality for Grand Bahama, indeed, the entire Bahamas, as we do heavily rely on the importation of more than 80% of our food source.

Coming from a household with an immigrant mother, I recall during my childhood always eating delicious, fresh produce grown by my mother--pigeon peas, sweet potatoes, corn, cassava and more. Growing up, like many fellow Bahamians, I considered farming to be a lowly pursuit; a third class job reserved mainly for illegal immigrants. Back then, the thought of being in the sun for hours was just too much work and just wasn't 'cool' enough, I suppose.

How foolish I was to think that way; fortunately I now think differently and had no idea back then that as an adult, I would become enthralled with farming. Becoming a Backyard Farmer has enabled me to feed myself and others as well, all from what I've grown with my own two hands and yes, lots of sweat. I've not only saved thousands of dollars, but also improved my health and contributed to making Grand Bahama, 'Clean, Green and Pristine' as touted by the Bahamas Ministry of Health.

The age-old art of farming goes way back and could be considered one of the most important strengths of a nation. Any country that can control its own food supply is considered a strong nation. I do hope that Bahamians from all walks of life can take a serious look at becoming Backyard Farmers. Households that have invested in a small garden will be able to sustain themselves long after local grocery stores and commercial markets run out of produce.

Backyard Farming can save money in many ways. Farming is about recycling (from the moment you bought your first few seeds the act of recycling has begun). When you grow crops you use the seeds from previously grown crops to grow your next batch and the cycle continues over and over again. It may be a surprise to most non-farmers that we are still using the seeds our ancestors used, their investment is a direct reason we are able to survive today. We must teach the art of farming to our children so that they too can pass down the most efficient and effective methods for the best results. We must also verbally stress the importance of the knowledge and passing it on to ensure our very survival.

This essential survival tool, farming, helps us to experience increased health from having more green in our diet. In fact, dieticians and nutritionists will probably tell us that what we eat is in direct connection to our health or lack of health, and since most young children today are unhealthy eaters I think it would be a great idea to start growing our own food now to help increase our overall health, not just from eating this produce, but also through the physical exertion of tilling, planting and tending our farms.

Of course the health benefits don't just stop there. Mentally we would feel great because we have a certain peace of mind and a sense of satisfaction knowing we've provided healthier food for our families to enjoy. Additionally, plants are known to reverse the effects of global warming—plants produce oxygen and reduce carbon Monoxide.

Ever since I began farming two years ago, I've felt such a great sense of accomplishment at having been able to contribute positively to my environment by making use of the resources around me. When I started my garden, I made it an interest of mine to help clean Grand Bahama while growing my food.

As a direct result, I have used old tires, plastic bottles and wooden pallets, all to add a different flavor to my garden. With the help of a few friends, I have added to these ideas and continue to do so. I have been suggesting to my friends something that is more eco-friendly, beautiful and thought worthy. Creative gardening might be the most effective way to get people back into farming and since old pallets, discarded tires and plastic containers are free, its easy to start a garden without having to dig into the ground but still use the spaces that are there.

These ideas can be used by people in Apartments with limited patio spaces. Wouldn't it be beautiful to eat our very own garden salad from our very own patio garden? I think it would spark great dialogue, giving us a chance to brag about our adventures of turning our little space into a vegetable garden that is healthy, cost efficient, green and serene.

Creative farming has been a fantastic way to spice the garden up, add a few extra feet and brain-storm for bigger ideas. Creative farming has been a super way for me to use my love for the planted while keeping my beautiful Bahamas clean. So if I can use plastic bottles that would ordinarily go into our land fill and add to the destruction of our planet, then I am doing my small part. But I want to do more. As we all should.

Imagine for a moment what our small island/Country would look like, what great health and happiness we would all have if we became Backyard Farmers.
About the Author

: Luckner Timothee is a backyard Farmer in Grand Bahama since starting his garden a few years ago he has wooed his friends with his produce and creative farming ideas. He continually learns from his friends and family about the process of farming and the struggles that a farmer goes through daily. He is now working on a Web show called "Let's Grow Bahamas" to be released on "Grand Bahama Backyard Farmers". He is attending seminars in order to meet other farmers around the world and to further his knowledge about Farming. To contact Luckner Timothee email him at:
bahamafarmers@live.com


Edited by Petrona Russell





© Copyright 2012 by thebahamasweekly.com

Top of Page