Mixing classic couture looks with daring lingerie details, fashion designer Eymeric Francois is reimaging French couture. His Autumn/Winter 2016 collection, entitled Midnight in Paris, combines elegant long evening dresses with tight corsets and transparent lace body suits to give us a sizzling sensuality not normally expected in luxury fashion.

During Vancouver Fashion Week I had the pleasure of interviewing this young designer to learn more about his vision of French elegance for today's woman. Trained under couture designer Thierry Mugler, Francois produced his first luxury collection in 2000 in Paris and has not looked back since. Today, at 35 years of age,he brings to the timeless elegance of French style a sensualism that features bareskin, transparent lace, strong sexual undertones and more than a hint of fetishism.

As a fashion designer, he simply adores women of all ages and loves to accentuate their figures, especially their waists which he accentuates using fine leather corsets.

He told me when he first began designing corsets, his models would complain that they were uncomfortable but that all changed once they saw themselves in the mirror. As one model stated, "suffering to look nice is not a problem."


This collection is filled with exquisite French lace, a sensual fabric which produces a singular sensation with it touches a woman's skin. Francois only works with the finest lace produced by French factories, supporting his fellow countrymen and an industry under siege in the era of fast fashion.

He says the clientele for his couture collection is made up of many Arabian Princesses as women from the Middle East adore French lace. Interest from Middle Eastern clients began with one custom dress for a Saudi Arabian Princess and soon more Princesses began to show up at his door in Paris. Success came from referrals rather than advertising or social media.

The collection, showcased at Vancouver Fashion Week, was dominated by black with some bright colours such as fuchsia and purple mixed in. With all the lace and corsetry, it's clear that Midnight in Paris is a collection for a woman that may leave her home solo for an evening of fun but has no intention of coming home alone.As Eymeric Francois would say, "a little suffering can go a long way."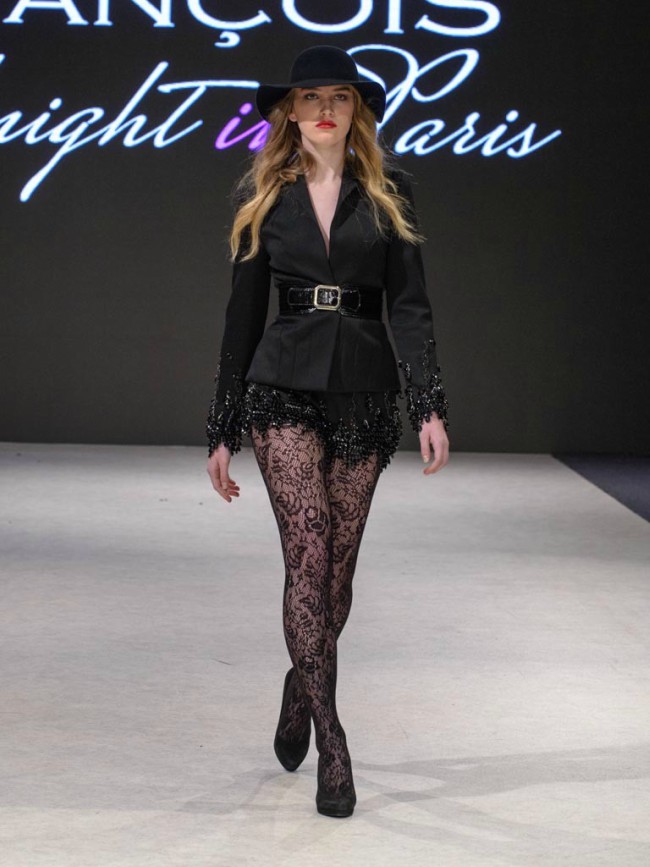 Photo: Simon Lau


Read all articles by Edward Quan


About the Author: Experienced luxury fashion buyer Edward Quan has worked with the most prestigious designer brands across Europe and America and shares his inspiration for effortless style on his website, StyleDrama.com. He has a passionate, yet intelligent way of describing his subject and has a keen eye for detail. He lives in Vancouver, Canada.