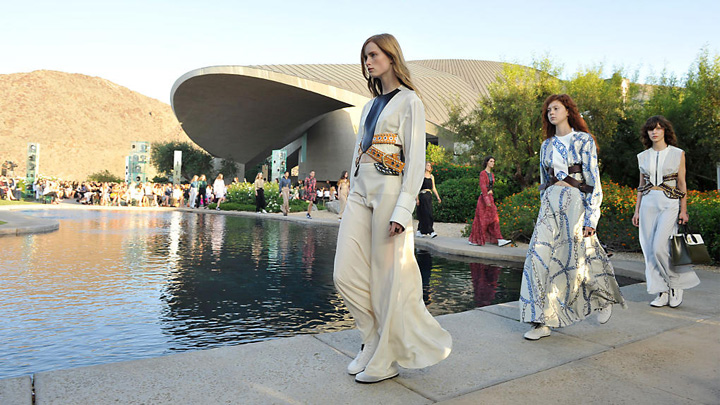 Louis Vuitton resort collection unveiled at Bob Hopes Estate, Palm Springs - louisvitton.com


To inspire the fashionably chic for their next travel adventure, Louis Vuitton's artistic designer Nicolas Ghesquiere unveiled his Resort 2016 collection in Palm Springs California at the legendary Bob Hope Estate.

Located on a hilltop overlooking the Coachella Valley desert, Bob Hope's residence resembles a giant round spaceship made from glass and concrete that covers 23,000 sq. ft. of luxurious living space. Built in the late 70's, the outdoor garden area partially sheltered by a huge overhand with its unique circular pool was the runway for 500 invited guests that experienced a Louis Vuitton resort collection that was hotter than the dry desert heat.

Nicolas Ghesquiere started the fashion show at precisely 6:15 pm, to capture the warm sunset glow on the model's faces as the sun dropped behind the San Jacinto Mountains.

First up was a series of maxi-dresses in chain prints with cropped top blouses. Criss-crossed leather belts and exposed midriffs.

Evening wear was just as dramatic with beautiful floor length crimson leather with ruffed tops and Louis Vuitton monogram cutouts.

Hot pants from the 70's are back in style, cut high and matched with silk blouses to casual bomber jackets.

Interestingly, all the models wore white hi top sneakers, hiking boots or sandals, portraying a playful attitude of a Louis Vuitton woman on the move.

The Louis Vuitton brand is all about the art of travel, remaining true to 161 years of legendary heritage with trunks and fine leather goods.

From sensual hot pants to relaxing maxi-dresses, just don't forget to bring along your Louis Vuitton luggage.

View the fashion show here on LouisVuitton.com



Read all articles by Edward Quan



About the Author: Experienced luxury fashion buyer Edward Quan has worked with the most prestigious designer brands across Europe and America and shares his inspiration for effortless style on his website, StyleDrama.com. He has a passionate, yet intelligent way of describing his subject and has a keen eye for detail. He lives in Vancouver, Canada.