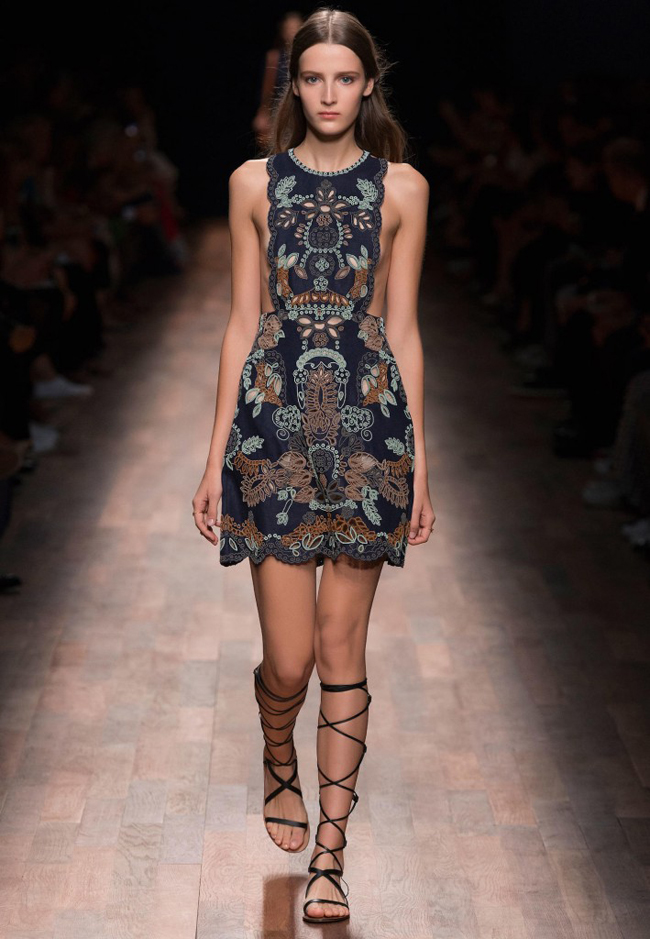 Valentino brings us bohemian chic with cutout pattern dressses for spring summer 2015 – (Photo: valentino.com)


Valentino takes us back to the free spirited hippy 70's era with a more luxurious bohemian look for spring 2015. Picture fine silk patterns, cutout lace fabrics, and fine beaded embroidery for the warmer days ahead.

The 70's were one of the most significant cultural periods in recent American history. Young people were filled with optimism and idealism; it was about ending the Vietnam War and marching for social change such as civil rights and women's equality. A generation that rebelled against the establishment, fashion became free flowing and softer, more romantic and exotic with influences from North Africa and Middle Eastern cultures.

For several European fashion designers, those colourful print dresses from the flower child decade made perfect inspiration for spring. But as I have written in past columns, fashion evolves as it's never quite exactly the same, the second time around.
Luxe-Boho
Valentino seized upon the bohemian spirit with breezy silk print dresses paired with knee-high leather lace Roman sandals, offering a spring summer collection of beautiful pattern fabrics and unique eyelet lace dresses. The detailing is breathtaking! Delicate embroidery abounds with small feathers, beads, and crystals on short and long dresses.
Valentino's signature style is that they make each piece perfect, such as a simple gold starfish motif on sheer silk gowns. The only accessory you would ever need to add is a small handbag and footwear. His interpretation of the sexy 70's bohemian style is incredibly simple, yet so much more spectacular this time around.
The appeal of haute bohemian style of comfortable and glamorous looks will cross all generations, from those who experienced the turbulent 70's to a younger set that want to be part of this fashion era.
Read all articles by Edward Quan

About the Author: Experienced luxury fashion buyer Edward Quan has worked with the most prestigious designer brands across Europe and America and shares his inspiration for effortless style on his website, StyleDrama.com. He has a passionate, yet intelligent way of describing his subject and has a keen eye for detail. He lives in Vancouver, Canada.