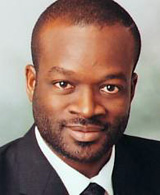 It is not surprising these days to hear about persons' being offered and receiving early retirement packages from employers. This is just one of a number of restructuring and downsizing method used by the corporate world to cut cost. And you will more than likely see it used in the restructuring exercise at The Broadcasting Corporation of The Bahamas.
So whether you are a part of the private or government sector it is something you had better get used to it. And that is why it is so important that you- fully understand what you are getting before accepting an "Early Retirement"package.
There is no question that these packages can be quite attractive, and that is the intent of the employer to make it as attractive as possible from a cash in hand prospective but it may or may not be a good choice for you.
Hopefully, once you are done reading you will be empowered to look carefully at what you are getting before accepting, even if you don't have an option to refuse the 'package'.
So what is this all about?
An early retirement package is an offer of money in return for you retiring at an earlier time than you had planned. Most companies include a severance pay based on your annual salary and your years of service. An early retirement package might also include benefits such as health insurance or life insurance.
Can I afford this change?
To answer this question, you must have a clear picture of your current financial situation, your family's needs, and whether or not you have enough money to continue living the lifestyle you are accustomed too for the years of early retirement. If you had planned to retire at age 65 and you are now retiring at age 55, will you have enough money to support you for the additional 10 years? Four steps you can take to prepare financially and make the transition less traumatic are:
Do I have appropriate protection?
Your employers may include health insurance in your early retirement package but most don't. And even if it is included you may have to pay the cost. And the cost may force you to get your own coverage. So you need to ensure that you and your family have adequate medical insurance coverage. Your best options maybe an individual medical policy or possibly coverage through your spouse's employment.

You maybe able to continue your life insurance coverage but this is usually very limited and and again you could be responsible for the cost. If your employer doesn't offer life insurance, then it's important that you get your own coverage.
What about my pension?
If your company has a pension plan, you usually can't start drawing from that pension until you reach a certain age but the good thing about this is the longer you wait, the more your monthly benefit check will be. But you should discuss all of your options and entitlements with your company's plan administrator or human resources department.
What about National Insurance?
It is important to note that early retirement benefit payment from National Insurance does not start until age 60. So if you retire earlier than age 60 you will have to wait for this benefit.


Also, if you rejoin the work force after age 60 your weekly salary must be less than $200.00 or monthly $866.67 to continue to receive National Insurance benefits.
What am I going to do?
Apart from all the money issues I feel this is the most important question you will have to answer. You may have been working for 30-40 year now that all coming to an end so what are you going to do.
Believe it or not "Retirement has killed more people than hard work ever will." That's why it's so important that you know what you are going to do.You may not have realized it but besides providing you with financial stability work also provided four other benefits:
an opportunity for you to socialize

structured and scheduled environment

status or sense of importance


a sense of utility
Now that you will no longer be at work you must find activities to involve yourself in that would provide these benefits.
You can expect that With the current economic conditions that companies will continue to downsize and as a result offer early retirement packages. So start planning now before it happens to you. A helpful resource to help you plan is "Strategies for Achieving A Comfortable Retirement - Your workbook.
"Retirement is the most expensive purchase you will ever make and it's the one thing you won't be able to borrow money for" - A Wise Man
Copyright © 2010- Glenn S. Ferguson
Glenn Ferguson is a Speaker, Coach and Syndicated Writer, helping you to painlessly take control of your money to create wealth for you and your family. Email to: glenn@financialcoachingwithglenn.com Web site: www.financialcoachingwithglenn.com