Last Updated:

Feb 6, 2017 - 2:32:04 PM
---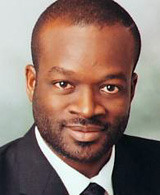 March 8th was International Women's Day celebrated under the theme "Equal Rights, Equal Opportunities: Progress for All". And to mark the event the Bureau of Women's Affairs of the Ministry of Labour and Social Development held a half-day workshop that focused on women and girls issues and I was amongst the few men that were fortunate enough to be thorns amongst so many beautiful roses.

While all of the presentations were informative it was Theresa Moxey-Ingraham (Hon.), former government minister and member of Parliament that really caused me to sit up and take note as she presented on "Women's Access to Political Leadership and their Experiences in the Electoral Process."

Mrs. Moxey-Ingraham opined that unfortunately, women in the Bahamas have allowed their involvement in frontline political leadership to be eroded to the place where there are no women currently in political leadership. Instead women have been given the responsibilities of leadership without having the authority of leadership. Even though it is the women who have enabled men to ascend to the high office of political and social leadership as they are the backbone of support that is so desperately needed for fundraising and community outreach.

In recounting her own political experience Mrs. Moxey-Ingraham was of the opinion that woman seemed more comfortable supporting man for leadership positions as opposed to supporting other women for similar roles and that this may be a result of their Judeo-Christian upbringing. And it was surprising to me to hear how many other women expressed a similar view.

This is also the case with money as Bahamian women for the most part seem to still be comfortable having their finances managed by the men in their lives and seem to still think that men are the answer to their financial woes. However, it is the women that have been given the awesome responsibility of running and managing their household and lives. And an astonishing 60% of Bahamian households are run by women. Clearly indicating that there is no man to be responsible for their finances and for those that do have men the likelihood that those men will continue to be there diminishes quite rapidly as 50% of marriages end in divorce.

There is no doubt about it you will be responsible for your own financial security and you can not continue to make the mistake of relying on a man to provide you with financial security as the statistics are clear 90 percent of women will be solely responsible for their money and finances at some point in their lives.

Therefore, it is important that you prepare yourself to manage your money. And the only way that is possible is through financial planning a much higher priority and improving your own financial literacy.

And this is important for you to do whether you are married or not because too many family are devastated when a husband dies because the wife is not intimately involved in the family's finances. So even if you are married to a money management expert who provides for you and doesn't have a sweetheart (as far as you know) on the side you need to become involve and understand what's happening with the money in your house. 


So my warning to you is no matter how confusing, complicated or boring you feel money management is, not learning about money and investing is the most devastating things you can do and a sure bet to ruining your future. And whether you believe it or not, no one can manage your money as good as you can.



The good news is that it does not take a lot of effort for you to manage and make your money grow. And to help you get started enter the "Unlocking Your Financial Security" contest or simply visit financialcoachingwithglenn.com and use the free resources.

No matter what there is no time like now to begin taking control of your money!

Copyright © 2010 - Glenn S. Ferguson

Glenn Ferguson is a financial & retirement Speaker, Coach and Syndicated Writer, helping you to painlessly take control of your Money, to create wealth for yourself and family. Email to: glenn@financialcoachingwithglenn.com Website www.financialcoachingwithglenn.com Tel: 1-242-327-2453 or 327-0853 Fax 1-242-327-2456.





© Copyright 2010 by thebahamasweekly.com

Top of Page