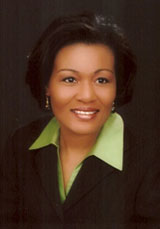 I wish to share with you a charge given to me by the Former Rector of St. Agnes Anglican Parish, New Providence (Nassau), The Bahamas, Archdeacon William Edward Thompson at age twelve (12) during my confirmation to the Anglican faith.

I will admit, though I've forgotten much of what I learned during confirmation classes, this charge has remained at the fore especially when I served as a Human Resources Administrator and Trainer, as a Lecturer, Mathematics and Reading Tutor, Departmental Coordinator and now as a Vision Coach helping.

I know how difficult it can be to serve as an Associate in any type workplace, in any industry and sector. Sometimes the demands of the customer, leaderships' emphasis on profitability and productivity, the synergy amongst colleagues and the communication between your level and upper management can create opportunities that challenge the best of us.

Such situations can cause an Associate to compromise, pass the buck, procrastinate, quit, fail, resign or loose interest during those times when any form of error may seem to be the best way forward. What do you use as your compass as you stand before that questionable fork in the road?

For me, it has been as it remains today, this charge that helps me answer the latter question.
So simple, yet profound this charge, comprise of only twelve (12) words, three (3) sentences long that reads as follows:
Renounce what is wrong,
Believe what is true and,
Do what is right.

This charge speaks to 'Integrity'. What do you do when your integrity is at stake? For some, such a charge is often easier said that done. Standing on what you would know to be true and right, may call for one to stand alone, be outcast, and scorned by the majority.

Such a charge is for the confident Associate; those who believe that honesty is noble, that truth is fair and sincerity is humility. This Associate's beliefs are demonstrated in what they do and say causing their judgment to be sound, wholesome and unimpaired. This Associate who dares to give no merit to what others may think, say and expect of them are deemed brave, bold and at times radical and unruly. The Associates who walks with integrity personifies confidence, responsibility, and reliability.

Feel free to use this charge and whatever other barometer that you may have to quicken, guide, encourage and to an extent provoke you to honour your values, protect your character and uphold your credibility within your workplace, amongst your colleagues and with your customers as you endeavor to renounce what is wrong, believe what is true and do what is right.

Dedicated to the memory of Archdeacon William Edward Thompson 1933 – 2000

Copyright @ 2011 Kaylus Horton

Kaylus Horton, Vision Coach and Principal of Renaissance Group of Companies facilitates one-on-one and group coaching sessions for vision, focus and direction in livelihoods and lives. For more information about her coaching services visit www.renaissancebahamas.com or send an E-Mail: info@renaissancebahamas.com