Last Updated:

Feb 6, 2017 - 2:32:04 PM
---


My father passed away at 87 years old on March 11th, 2013. I'd seen him twice this year before a visit just one week prior to his death. He was doing so well those first two times, that the last time I saw him, was when it finally sunk in that my father was actually going to die. Until then, I naively never felt it possible.

I'd always felt blessed that all of my loved ones were alive around me, while so many families deal with sudden deaths, accidents and sickness. The whole idea of death and dying waited until now to visit my psyche.

My father lived a full and rich life. I have no regrets regarding our relationship, and have no thoughts or words left unsaid to my father, as we had a relationship that seemed even-keeled throughout my entire life.

On his last birthday I had the pleasure of reading this poem below to him as he laughed and listened, and I am so glad I had that opportunity, as I also read it at his funeral, and I am glad it wasn't only the latter.

This my first experience in grieving death and it is still very fresh. I've grieved lost love, and I have to say they are nothing alike. Lost love ranks up there with personally dying, whereas the grieve I am feeling now, comes in waves. There was the initial shock, sadness, and heart-wrenched outpouring of sorrow, that led to moments of disbelief, and denial, which were hit by the next unexpected wave of sorrow.

The funeral, or memorial, is such an important process to go through. My older sister reminded me that the funeral is not only for the deceased, but also for the living. It helps up to personally come to terms with the loss; to realize, and release, the attachment to that person.



Losing a parent is like losing a part of your identity. Another benefit of putting together a funeral is, that in the process and delivery, you revisit that identity. I know for certain that our family's identity was strengthened through my father's passage. What a gift he gave us.

With my 50th birthday approaching this month, I'd asked my eldest brother to convert our old home movies to DVD so we could show them at my party. How perfect that in doing so, they were ready for my father's funeral and dad even saw a few clips on his last day on earth. We watched hours of old movies covering Wachell life from the 50s and 60s leading up to the days before the funeral, and the montage you see here was produced from those films by my nephew Davyde.

Our family and step-family came together to support one another and to grieve together as a family; and of course to share our sentiments and honour the man that touched our lives individually, and collectively, in so many ways. With seven children, and a divorce and second marriage, his life created a thread-work of stories and connections, and yes, even disconnections. We were able to share many stories, not only about my father, but about times gone by.

With the death of a loved one you end up having to honour the place you end at, even if there were things left unresolved. I witnessed this with some of my siblings. I am content to know that I am at peace with each of my parents, but I realised that it's 'my decision' to have that peace that really counts. Forgiveness truly is a gift one gives oneself. I encourage any of you that may have unresolved issues with your parents, to discuss, resolve them and/or forgive, now before later. And if you have not told a loved one that you love them, do not wait another day to do so. Life is so very very precious.


Rest in peace my sweet father...I miss you so.


Curt Whachell (January 6th, 1926 – March 11, 2013)

Born William Wachal to Walter Wachal and Antonia Kubesh on January 6, 1926 at Ladywood, Manitoba. Billy Boy (as he was lovingly called by Baba Kubish) didn't live at home with is parents and three siblings, but lived with Baba and Grandpa Kubish until he left home at 15 years of age to work in dining cars on the railways. The call of the wild was more appealing to Bill and he learned to operate heavy equipment for Simpkins Construction. One of his projects with Simpkins brought him to The Pas, Manitoba where he met Rose, a nurse's aid, working at a TB clinic.

He married Rosaline Florence Hinz (Heintz) on November 25th, 1949 in Winnipeg, Manitoba. Curt and Corae Whachell raised seven children: Wayne, Allynne, Jonn, Dean, Robbin, Nollind, and Jacqueline.

Bill was truly a Canadian pioneer. He worked on the Winnipeg Floodway; oversaw construction of the Trans-Canada Highway from Brandon to Lake of the Woods; and was superintendent for the Simpkins project for the clearing and building of roads from Wabowden to Thompson. After Bill left Simpkins he started his own company, Wachell Construction as well as a gas and service station, while Rose ran the adjacent restaurant. He moved freight across frozen lakes to Norway House by caterpillar and dismantled radar sites near Churchill.

Bill and Rose Whachell raised seven children: Wayne, Linda, Ronald, Daniel, Catherine, David, and Jacqueline. A true rugged outdoorsman, Bill loved to fish and hunt. Favourite family outings usually involved camping. Always seeking adventure, he had many stories of survival and near-death experiences.

In 1969 Bill moved his family to Alberta. Closer to the mid-70s he was hired as the manager of road works for Standard General Construction managing 2200 employees. In 1976 William (Bill) changed his name to Curt Whachell. Curt and Corae lived between their acreage home in Carbondale and their city home in St. Albert.

Curt moved to Wells, BC in 1980 to try his luck at gold mining. It is there that he met his second wife and he married June Makeyev on August 1, 1998 in Barkerville, British Columbia. Curt became a father to Aimee and Matthew.

Curt and June mined and worked together in the tourist frontier town of Barkerville where he was the stagecoach driver. Barkerville was also the backdrop of their 1800s' style wedding. Their wedding bands were made from the gold they mined.

They moved to Parksville, BC on Vancouver Island in May 2011. Curt spent his finals days in Arrowsmith Lodge. He was known for his great smile, infectious laugh and good-natured banter.

He is survived by his loving wife June Whachell, and his first wife Corae Hionz.

Curt was a loving family man with 23 grandchildren and 10 great-grandchildren. He died at the age of 87.

Siblings: Lawrence Wachell, Dora Marquart; and the late Elbie Krasey.

Children: Allynne Nixon, Wayne Wachell, Jonn Whachell, Dean Whachell, Robbin Whachell, Nollind Whachell, Jacqueline Wachell, Aimee Johnston, Matthew Johnston

Grandchildren: Rea Dann, Davyde Wachell, Michael Wachell, Curt Whachell, James Maltby, Alainnah Maltby, Roxsane Whachell, Jared Whachell, Kaayla Whachell, Kiaana Whachell, Odeshah Whachell, Loryn Blower, Tohni Blower, Nathen Blower, Jackie Blower, Lorea Whachell, Sollena Hillstrom, Samaya Whachell, Breonna Whachell, Ivan Johnston, Jennefer Small, James Nixon, and Rayne Babakaiff.

Great Grandchildren: Nissi Dan, Crus Dan, Orean Whachell, Tonnear Whachell, Isaac Whachell, Ashleigh Small, Sarah Small, Jordan Small, Kelly Rosenberger, and Ryan Roussy




A memorial service took place at First Memorial Services, Nanaimo, BC on March 16th, 2013. The Celebrant was Fred Massey of Nanaimo.

Pre-service music: Hallelujah by K.D. Lang; The Lord's Prayer; 23rd Psalm; Song (together): Amazing Grace; Eulogy: Wayne Wachell; Wachell family movie montage produced by Davyde Wachell; Song (together): I'll Fly Away; Messages of Remembrance were given by Aimee Johnston, Robbin Whachell, Nathen Blower, Jackie Blower, Curt Whachell Jr., Michael Wachell, and Mathew Johnston. Post-service music: Could I Have This Dance? by Anne Murray

A Reception was held at Quality Resort Bayside, Parksville where a rainbow appeared twice that afternoon over the water.

Link to film montage on Curt Whachell.

A website is being created: curt.whachell.com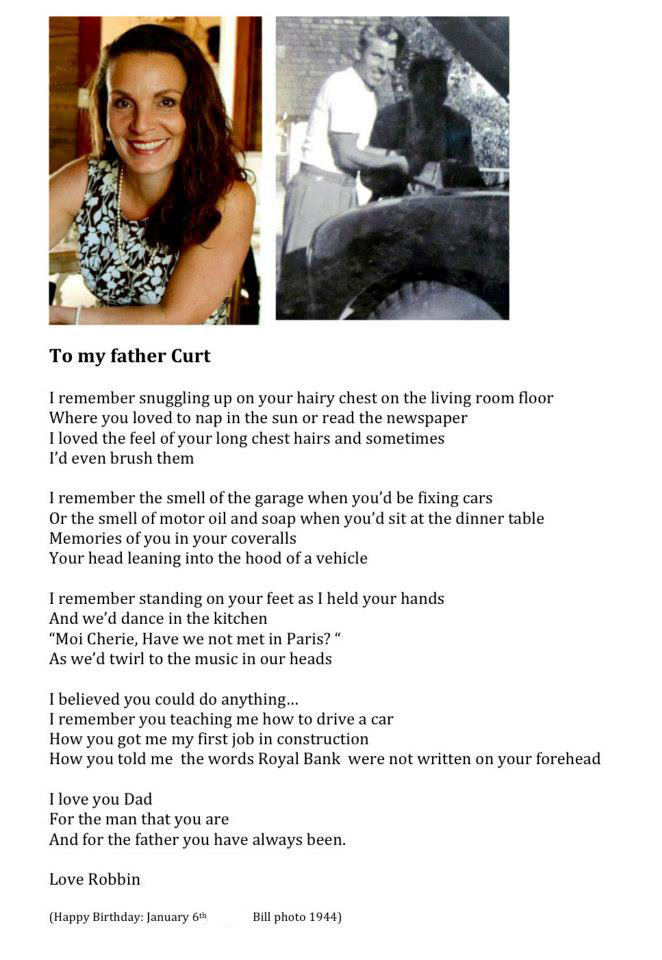 About the author:

Robbin Whachell is a publicist, writer, photo-journalist; and co-founder/ editor of one of The Bahamas' leading news sites, TheBahamasWeekly.com. Ms. Whachell is a successful entrepreneur and pioneer in online marketing. Aside from being a recognized media personality and community builder, she is known for her networking and social media skills, and has a background in information management and film.She can be found on Facebook, Twitter, Instagram, LinkedIn, Skype. Reach Robbin by email at Editor@thebahamasweekly.com



Related article:

The Story of My Identity aka My Pecha Kucha Experience
Click to download the attached file(s):





© Copyright 2013 by thebahamasweekly.com

Top of Page