Last Updated:

Feb 6, 2017 - 2:32:04 PM
---
I continue my research and findings on pageantry in The Bahamas with Part 2 in a series. Stemming from my curiosity and trying to find answers to my so many questions like: Does the Bahamas have too many pageants? Is there money in pageantry? How does one live off of pageantry, and is that even possible? What benefits do they offer their country? or the queens?

I figured there had to be some misconceptions so I canvased for opinion online and then went to those in the know. In this Part 2 I share responses from an

interview with Michelle Malcom, President, Miss Bahamas

Organization
who's background in pageantry is extensive and dates back to 1978. She competed in pageants (Miss Bahamas, Miss GHS); hosted a number of local pageants; judged national and international pageants (Miss Teen USA, Top Model of the World, Miss Bahamas, Miss Teen Bahamas and many others); coached many pageants winners and contestants; wrote and produced Miss Bahamas Television broadcast at ZNS for several years; and has served as president of the Miss Bahamas Organization (MBO) since 2005.

"I've been interested in pageants ever since I was a girl, watching the Miss Universe pageant on television and admiring our Miss Bahamas winners from afar," says Malcolm. "I remember watching when Janelle Commissiong of Trinidad won the Miss Universe pageant in 1977 becoming the first woman of color to do so, and thinking that this was something that girls like me could achieve. I've had a love for pageants ever since."

Shortly after
MBO was launched in the fall of 2005
the organization was granted the Miss World franchise. A private screening was held to select a delegate to represent the Bahamas at the Miss World pageant that year. MBO's first pageant was held in July of 2006, and it was won by Deandrea Conliffe.

When asked who was the most successful queen, Malcolm responded, "That's a tough question to answer because what one person may define as success may not fit another person's definition. As far as success at international pageants is concerned, MBO has had several title holders do well."

Malcolm went on to explain that Deandrea Conliffe (Miss Bahamas World 2006) was a Top 15 finalist in the Top Model of the World competition and Miss Bahamas 2010 Braneka Bassett became only the second Bahamian woman to advance to the finals of the Miss World competition, ending an 18 year drought for The Bahamas.

"We've also had runners up who have done well internationally," she said. Both Anastagia Pierre (1st runner up 2010) and Dashanique Poitier (2nd runner up 2009) were finalists in the Miss Intercontinental pageant in their respective years. And Kendra Wilkinson - a semifinalist in our 2009 pageant placed in the Top 15 of the first ever Miss Supranational Pageant.

She said that the reigning Miss Bahamas Universe, Anastagia Pierre has been quite busy during her reign and has made appearances as Miss Bahamas in Jamaica, where she walked the runway in Caribbean Fashion Week, and Venezuela where she was photographed for a calendar featuring international beauty queens past and present. Her role as spokesperson for Diamonds International has also been extended to the regional level.

Although the reigning Miss World Bahamas Sasha Joyce did not make the finals, she did well in her international competition where out of 113 contestants she placed 8th in the Sportswoman challenge and 20th in the Beauty with a Purpose competition for her work with Special Olympics Bahamas.

As far as success in their careers after the crown, Malcolm said that Braneka Bassett has been doing well in her pursuit of an acting career. She recently landed the starring role in the music video Woo by Anthony Hamilton.

When asked about the main benefits of pageantry, Malcolm replied, "Young women who go through a good pageant system emerge empowered, self assured and purpose driven. Its a developmental program which aims to send young women out into the world armed with the skills to make a positive contribution to their society."

"Apart from that, pageantry can also evoke national pride when our queens represent us internationally. Regarding benefits to the contestants, we always urge our delegates to leave the pageant system better and not bitter. Everyone competing will not win the title, but hopefully they will carry away something much more valuable than a crown and sash from their pageant experience."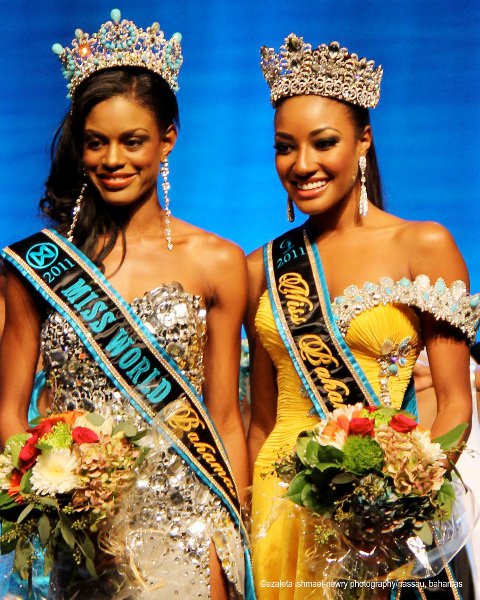 Malcolm says that opportunities abound for all participants in pageants, not just those who win. It is up to the contestants to see those opportunities and embrace them, and as for benefits to the winner, her life will ultimately be changed.

"She instantly becomes an ambassador for her country, and she is held under the highest scrutiny. She is seen as a role model and is expected to always be at her best, no matter how she feels. She is expected to give back to the community and lead by example in this regard." Becoming a titleholder has both rewards and responsibilities says Malcolm.

I asked Michelle Malcolm if she agreed that pageants are for making money, as some of the people I'd canvased had told me, or due to common public opinion, and she responded, "Pageants are for making money? Lol! Well apparently I didn't get the memo! My experience has been the exact opposite. It has COST me money and a lot more."

Malcolm shared that in her experience pageants can be profitable if given the right support, but unfortunately that is not the case in The Bahamas according to what she's seen. While people see the money that is coming in, what they don't see is how much is being paid out to run a pageant professionally. "Our experience has been that we are constantly coming up short. Pageant powerhouse country's like Venezuela and USA have a conglomerate behind their national pageants. They see the value in it. Meanwhile in The Bahamas, we find ourselves "scrapping" trying to raise money to give our queens what they need to represent the country effectively," Malcolm explained. "We could experience much more success with more support," she said.

"The biggest misconception about pageants is that it is all a meaningless meat show. People don't appreciate the development of the young women who go through our system, who enter our system as girls, and leave as women," said Malcolm. She expressed that there is so much more to pageants than what you see on the final night. "That is the icing on the cake," she exclaims. "The real value is the process that the young ladies go through to get there." Malcolm said they are challenged by the mindset of the Bahamian public towards pageantry. She said that pageants in the Bahamas were once highly revered but over a number of years the image was allowed to deteriorate to a dismal state. "We're trying to regain the position that pageantry once held in its glory days and it has been an uphill battle. We're confident that we will get there eventually with the right support."

Looking toward the future Malcolm said, "I would like to see The Bahamas come to a place where all of our developmental programs are adequately supported, pageants included. It is very discouraging to go through what we do while trying to prepare a young woman to represent the nation of The Bahamas. I don't know if it will happen in my lifetime, but I hope one day the culture of The Bahamas changes to embrace pageantry for the good that it can do and that it is given more support, from the nation's leaders right down to the average Joe on the street."

When asked about her personal biggest success in the history of the pageant she said, "By far the acquisition of the Miss Universe franchise, simply because for the first time in the history of pageantry in the Bahamas, the world's two largest and most prestigious pageants - Miss World and Miss Universe - are now under one umbrella organization. We were also quite proud of the fact that we produced a Miss World finalist, which is not an easy task."

As for 2012, she said that this year they are going to be giving the Bahamian public more of a say as to who should compete in Miss Bahamas, and those new plans are to be announced very soon. In the meantime, she is encouraging interested young women to apply online to enter the pageant as contestant screening will be coming up in another few weeks. The venue and time of the screening will be announced soon.

For more information visit the Miss Bahamas official website

And on Facebook: Miss Bahamas Beauty Pageant



The Miss Bahamas Organization is headquartered in Nassau, Bahamas. It is a company that holds The Miss Bahamas pageant each year, from which it chooses winners to represent the country in international pageants around the world. This pageant also serves as a national television event. The Miss Bahamas Organization is staffed by leaders in fields ranging from TV production and marketing to event planning, licensing and stage production.
Pageantry in The Bahamas: Does The Bahamas have too many pageants?
About the author: Robbin Whachell is a publicist, writer, photo-journalist; and co-founder/ editor of one of The Bahamas' leading news sites, TheBahamasWeekly.com. Ms. Whachell is a successful entrepreneur and pioneer in online marketing. Aside from being a recognized media personality and community builder, she is known for her networking and social media skills, and has a background in information management and film.She can be found on Facebook, Twitter, Instagram, LinkedIn, Skype. Reach Robbin by email at Editor@thebahamasweekly.com





© Copyright 2012 by thebahamasweekly.com

Top of Page