Last Updated:

Feb 13, 2017 - 1:45:37 AM
---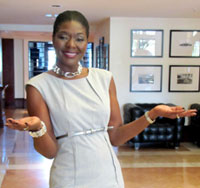 Oh the boardroom, it can be a daunting place. We gather around the table and there always seems to be one or two people who dominate the meeting; then there are those one or two who you forget were there. If you want to be seen as a leader, you can't afford to get lost in the boardroom. Here are some things you can do when you go to your next meeting that will help you to create strong presence.

Firstly, remember everything communicates, so your body language is important. Research has shown that people with strong presence actually take up more space in the room. They stand taller and use their body to let you know they are present. Visualize what you do with your body when you don't want to be seen. We tend to hunch our shoulders, tuck our heads and look down hoping no one will notice us. Well you want to do the opposite when entering a meeting. Instead of slumping down in your seat with your legs crossed, notepad in your lap, elbow propped on your knee with your chin in your hand, be present to create stronger presence. Sit up, lean slightly forward in your seat and put your notepad on the table. Acknowledge those around you with eye contact, a nod and a smile at the very least.

Secondly, be sure your resting face looks like you are interested. If you don't know what your resting face looks like, check the mirror to see what you look like when you are not consciously thinking about much of anything. Do you look tired, bored, annoyed or aloof? If so, you may need to practice a pleasant face that looks engaged in the mirror so you know what that face feels like. That's the face you need to take to the boardroom.

Thirdly, familiarize yourself with the agenda before the meeting. If you see something you want to address prepare your input ahead of time.

Fourthly, don't waste other people's time by talking just to hear yourself, however you should never leave the meeting without saying anything. Even if it's just to say, "I agree with Jim, that's a great idea." If you have something valuable to add or if you are called on to say something, say it succinctly. Short impactful statements serve better than long detailed soliloquies.

Here is a guide for sharing your ideas:

State the problem

State the solution

Support the solution

Address possible concerns

Finish with an emphatic statement

Example:

1. "The current process is inefficient…………. (list reasons why)

2. "If we implement ___________ we can limit the errors and speed up the process

3. "I know there were concerns about possible breaches in security, I did my research and found____________


Then end with a strong emphatic statement like, "This will make the process more efficient without exposing us to security risks."

Then stop talking. Don't diminish what you say by adding phrases like, I think, I hope, etc.


Kim Welcome

CEO of Influential Voice works with progressive companies and individuals who are concerned that unrefined communication skills may be hindering their growth and advancement. She helps them to increase their power to influence for greater productivity and impact. For more info visit www.influentialvoice.com. For a Free Speech & Voice Evaluation email info@influentialvoice.com.





© Copyright 2014 by thebahamasweekly.com

Top of Page