Last Updated:

Feb 6, 2017 - 2:32:04 PM
---
With just several weeks left in 2011, it's time to start thinking about the stellar outfit in which you will welcome the New Year.

New Years Eve (NYE) is a special occasion worthy of a special outfit, however there is no need to break the bank on all new pieces to create a memorable look that will both turn heads and look classic for years to come.

For many, a NYE outfit has been safely stored in the closet for weeks. However, if you're still on the fence about your NYE plans and haven't chosen your look yet, there is no need to fret.


With a simple ensemble (think your tried and true little black dress) you can jazz up your look with statement accessories that transform even the simplest dress or separates into something stellar.

Here are 4 statement accessories to keep in mind if your New Years Eve look has you stumped.


Oversized Rhinestone Hoops

Stellar earrings are always a great way to draw the eye to the face and play up your pretty facial features. The hoop is one of the classic earring styles that never goes out of style. Youthful and feminine, it's a great accessory to add interest to an otherwise simple look.

Take the hoop to the next level by wearing an oversized version that is adorned with sparkling rhinestones or diamonds for a splurge!

Patent Leather Oxfords

I have been waiting for the perfect New Year's Eve party to rock a killer tailored tuxedo à la Janelle Monae complete with a pair of patent leather oxfords. However until that perfect party presents itself, I'll settle for a quirky pairing of oxfords with a simple fitted black dress.


There are few sights worse than a beautifully dressed woman teetering atop stiletto heels that she cannot walk properly in. Avoid limping to your car with aching feet and bruised toes after a fun night of NYE festivities by rocking a pair of comfortable patent leather oxfords. Fashion forward enough to have people complimenting your shoes, yet comfortable enough to keep you on the dance floor all night sans the pain.

Jewel-Toned Cocktail Ring

Make your digits shine with an oversized cocktail ring. As you reach for your glass of bubbly to ring in the New Year, draw all eyes your way with an eye-catching jewel-toned cocktail ring. Jewel tones are all the rage for the fall and the holiday season.

Noir is by far my favorite brand for oversized fashion cocktail rings and I am smitten with the amethyst colored ring pictured. Whether sapphire, emerald, ruby or your preferred jewel-tone, an oversized cocktail ring is a great accessory to add pizazz to your look.

Sequin Clutch

If you're like me, you can't go to a party without a bag, even if it's a teeny tiny one that can hold just a few cosmetic touch-up essentials, a little cash and a cell phone. If you're going to carry around a little clutch all night, why not make it a pretty sparkly one!

New Year's Eve is one of those events where you can go a little ostentatious in your fashion choices. Pile on one or two of your favorite statement accessories and ring in 2012 in style!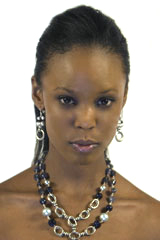 Tyrina Neely

Tyrina Talks Fashion is your weekly serving of fashion forecasting, trend reporting, figure analysis and helpful fashion tips and tricks. Email Tyrina with your fashion questions and photos at tyrinaalicia@hotmail.com . Visit www.primadonasales.com





© Copyright 2011 by thebahamasweekly.com

Top of Page