It's getting hot in here! No really, the temperatures are surely rising, and with even warmer weather comes the need to find comfortable fashions to beat the heat. Time to herald in chic shorts.
Tried and true denim cut off shorts have been worn by millions of spring breakers and Disneyland moms schlepping behind their kids and have been a no-brainer summer staple. However designers and the fashion elite have given shorts a chic makeover in the last few years. From voluminous casual numbers to glitzy evening wear appropriate stunners to show off your gams, shorts are all the rage for the summer months.
Not to fear, shorts are not only for svelte models with legs for days. Every woman can find a pair of shorts to flatter her figure.
Short Legs
High-waisted silhouettes instantly make your legs look longer. Perfect for ladies who want to visually elongate their frames, wearing shorts several inches above your natural waistline with an inseam of approximately 5 inches shows off more leg and helps to make short legs look long and lean.
To augment the effect, wear your shorts with a pair of heels to add even more height. Wedge heels are a great option for casual wear - they provide the added height in a comfortable heel.
Boyish Figure
Not everyone is blessed with an hourglass frame, but that doesn't mean you can't look like you have one. Voluminous shorts with pleating add volume to the hips to create the illusion of a curvy, more feminine figure.
Large Thighs
If the desire to conceal larger thighs keeps you away from wearing shorts, bermuda shorts are your fashion saviour. Bermuda shorts that hit mid-knee or just below the knee are great for ladies with curves. Look for options that are sleek and tailored for the most slimming effect. Opt for flat front shorts with no front pockets. This eliminates extra bulk at the thighs for a sleeker look.
Shorts are not only for daytime wear. Dressy options in sumptuous fabrics including silk blends and supple leather make taking this daytime staple into nighttime a cinch. Pair elegant shorts with tucked in blouses, funky graphic printed tops or even black sheer numbers to tie the look together.
Showing a healthy dose of leg means you'll want to wear a more demure top to balance the look. Stay away from blouses that show too much cleavage, you want your legs to be the star of the show.
It's time to get back to tried and true fashion basics and summer shorts are one of them. Add your own fashion take on this wardrobe staple to stay cool during warm summer days and heat things up even more during those long summer nights.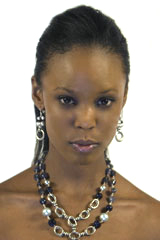 Tyrina Neely
Tyrina Talks Fashion is your weekly serving of fashion forecasting, trend reporting, figure analysis and helpful fashion tips and tricks. Email Tyrina with your fashion questions and photos at
tyrinaalicia@hotmail.com
. Visit
www.primadonasales.com