Here is the dilemma. Many women feel intimidated and even fearful of shopping because they are unhappy with their bodies and don't have a clear understanding of their specific body types. To augment the issue, many are unaware of how to choose styles that effectively diminish their problem areas for an overall flattering look. Clothes are our friends. Knowing your body type and how to effectively dress it takes the guesswork and stress out of shopping.
Dressing for your shape is the ultimate fashion rule, followed by ensuring that your clothes are tailored to your body and fit well. We spoke several weeks ago on dressing the inverted triangle body shape and ways to play up that shape's best assets while visually hiding the problem areas. This week is focused on dressing the apple shape.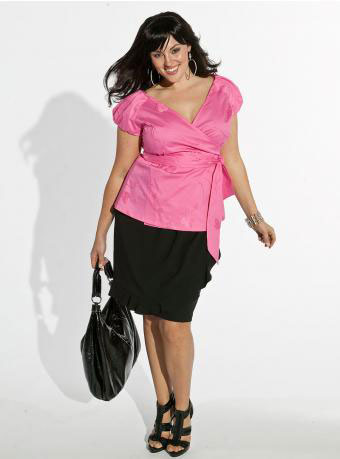 A Wrap Blouse for Apple Shape
Round and comforting you have the perfect body for cuddling but perhaps one of the hardest to dress. The apple shape is characterized by a lack of defined focal points. Your shoulders, bust and waist all appear to be the same size. You may have a short neck and your most common gripe is your ample tummy and lack of a defined waistline, causing you to feel overwhelmed when trying to dress yourself. The wrong answer, but the easiest and most frequently used quick fix is to swaddle yourself in reams of fabric. This is where that stops.
Your greatest asset if you have an apple shape is your lower portion. Your slender hips, shapely legs and defined calves are where you shine. Focus on playing up those parts of your body. When it comes to your upper body, opt for an open neckline. V-necks, scoop necks, boat necks and sweetheart necklines are flattering on you because they visually elongate your frame, accentuate the bust line and open up the neckline. If you're a dress fanatic like I am – cocktail length dresses look best on you because they expose a little of your leg – your slimmest and strongest feature.

Summer Wrap Dress for Apple Shape
Many of my clients complain that they are uncomfortable with wearing skirts or dresses and thus consistently cover their legs in pants. Here is my ten second pitch for dresses. They are weather appropriate and cooler to wear than pants. It's far easier to find a dress that fits well without having to be tailored than it is to find perfectly fitting pants. In addition – a dress is usually the best bang for your buck. It's a complete outfit at the same price point as a separate. Not to mention how feminine and sensuous a dress can make a woman look and feel in comparison to pants.
If that sold you, then there are two go-to dresses you must add to your wardrobe – a wrap dress and a maxi dress. When dressing an apple shape, maxi style dresses are a great option. Their open neckline, defined bust and empire waist highlight the bust and skim over your midsection for a balanced look that plays up your top half and diminishes your midsection.
When it comes to skirts, stick to A-line silhouettes or pencil skirts that fit well. That means no bunching or riding up when you walk.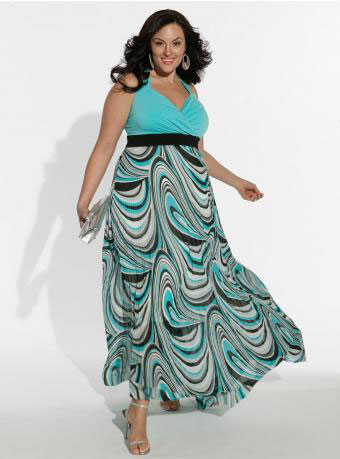 Halter Maxi Dress for Apple Shape
Quick recap – If you have an apple shaped body stick to tops that are open at the neckline but are long enough to cover your midsection. Show your lower legs. This is your best feature so play it up with cocktail length dresses and skirts.
Now that we've covered the basic the styles you should wear – here's a quick rundown of what you should avoid. When the weather gets colder – stay away from turtlenecks or any other garment with a high neck. Remember to wear open necklines. Tops that are too short are to be avoided. Tops that are very voluminous without a belt to create a waistline are also to be avoided.
Traditional jeans won't work for your body either. A tailored boot cut style in a dark denim wash that is fitted in the thighs and flares slightly toward the calf and ankle is your best option.
All styles aren't for all body types. Start paying attention to your figure and finding quality pieces that work for you. Fashion is an investment - an investment in your confidence and the way people perceive you. Happy shopping!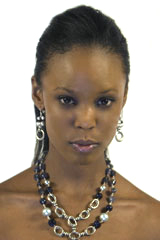 Tyrina Neely Tyrina Talks Fashion is your weekly serving of fashion forecasting, trend reporting, figure analysis and helpful fashion tips and tricks. Email Tyrina with your fashion questions and photos at tyrinaalicia@hotmail.com . Visit www.primadonasales.com