You pick up the organic carrots instead of the regular, turn off the lights when you leave the room and even drive a small, eco-friendly car - but do you think green when it comes to your wardrobe?
The benefits of eating organic foods and thinking green within your home are easy to appreciate. Eating foods grown without harmful pesticides and synthetic fertilizers directly benefits the way you feel and your overall health; while adopting environmentally sound habits within the home can save you lots of money over time. However, thinking organically when it comes to dressing your body is just as important for the environment.
Cotton is one of the most used textiles in clothing production - it is also one of the most pesticide dependent crops as well. Because cotton is not a crop grown for consumption, it is often sprayed with a cocktail of pesticides significantly greater and more environmentally harmful than food crops. In many cases the production of cotton, a textile often viewed as natural, is significantly more environmentally damaging than many synthetic textiles.
Organic cotton is grown without pesticides, herbicides or synthetic fertilizers and the final textile is dyed with plant dyes instead of being bleached like non-organic cotton.
Organic cotton is just one eco-friendly textile available for those who don't want to compromise the environment for style. Textiles derived from hemp and bamboo are resilient, soft, ideal for those who live in warm climates and best of all easily grown using organic methods.
Bamboo
In addition to being a sustainable textile, bamboo has many inherent qualities that makes it ideal for clothing production. The structure of the bamboo fiber makes it breathable and enables it to keep you cooler in the heat and warmer in the cold than any other fiber of the same weight. Bamboo fibers absorb water 3-4 times faster than cotton which makes the textile ideal for those who live in humid climates due to its ability to keep moisture away from the skin. It is also easy to wear and wrinkle resistant.
Hemp
The first Levi's jeans were made of hemp denim and virtually anything that can be made from cotton can be made from hemp. Hemp is one of the easiest crops to grow organically. Though it is not used widely in today's market, hemp production was once a major textile industry. The hemp plant grows tall in a relatively short amount of time and its dense foliage prevents the growth of weeds, thus eliminating the need for herbicides. The plant also uses significantly less water than cotton for its growth.
Eco-friendly clothing was a relatively small niche market initially, but mainstream brands have been incorporating organic cotton and eco-friendly manufacturing techniques into their clothing production in recent years, making once costly organic clothing affordable. Apart from the methods in which the textile crops are grown, eco-friendly clothing manufacturers employ fair trade practices which means fair labour conditions and wages for employees.
There are lots of new brands that have capitalized on the niche market for eco-friendly, sustainable fashion, but well-known brands such as Keds, H&M, Levi's and American Apparel also offer organic cotton options in their lines at more affordable prices.
You may not be picketing for the environment just yet, but slowly incorporating "green" fashion into your wardrobe means less harmful chemicals next to your skin, better working conditions for those workers manufacturing your clothing and a significantly smaller impact on the environment.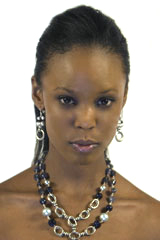 Tyrina Talks Fashion is your weekly serving of fashion forecasting, trend reporting, figure analysis and helpful fashion tips and tricks. Email Tyrina with your fashion questions and photos at tyrinaalicia@hotmail.com. Visit www.primadonasales.com