Last Updated:

Feb 6, 2017 - 2:32:04 PM
---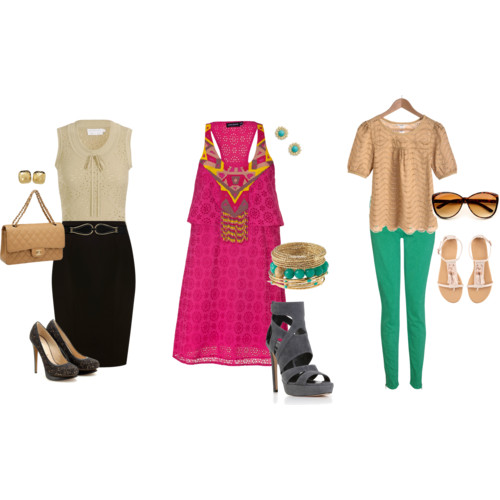 Vintage meets romance in this hot spring trend that adds a heavy dose of femininity to any wardrobe arsenal. Eyelet lace is one of the most common types of lace. Typically made out of cotton, modern eyelet features a screen cut design that places decorative holes in the fabric is then embroidered to prevent fraying with a buttonhole stitch.

From spring tanks and dresses to kaftans and even sneakers, eyelet is popping up everywhere and at every price point making it an affordable trend to incorporate into your spring wardrobe. Here are four ways to rock this trend.



At the Office



The demure innocence of eyelet doesn't immediately lend itself to a hard as nails look for the office, however with a little styling finesse even this angelic trend can be made office appropriate. For the ultimate fashionista, a tuxedo inspired work suit paired with an eyelet lace blouse peeking from underneath balances masculine and feminine for a look that's tres chic. For those who prefer to play it safe, keep it business on top and fun on the bottom with a pair of eyelet platform pumps. A basic neutral such as black or navy blue is your best option to remain office appropriate while showing a bit of your personal style.

Sunday Brunch

A simple eyelet sundress is pretty and effortless. Play up the intrinsic vintage flair of this textile by opting for a simple sundress with a vintage silhouette. Stick with a color palette of white, nudes or soft pastels to keep in tune with the ethereal flair of this vintage look. Subtle styling details such as a delicate silk sash around the waist highlights an hourglass figure and keeps in tune with your modern ode to yesteryear.



Night on The Town



Eyelet is darling in traditional white and subtle pastel hues. Dial up its wow factor by opting for an eyelet piece in a bold neon hue - a chic way to rock two huge spring trends at once. As with everything, seek balance with your eyelet look for a night on the town. Toughen up the innate sweetness of eyelet by pairing it with a structured piece that will give it even more edge such as a cropped architectural blazer.



At The Beach



Perfect for the easy, breezy days of spring and summer, an eyelet kaftan will take you from drinks on the dock to laying out on the sand. Opt for an eyelet lace bikini for a look that's both innocent and sultry.

During the long, gorgeous days of spring and summer every woman wants to feel feminine and beautiful, eyelet lace is a demure fabric that is sure to make you feel pretty!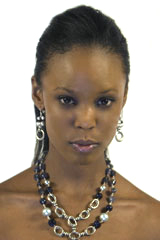 Tyrina Neely

Tyrina Talks Fashion is your weekly serving of fashion forecasting, trend reporting, figure analysis and helpful fashion tips and tricks. Email Tyrina with your fashion questions and photos at tyrinaalicia@hotmail.com . Visit www.primadonasales.com





© Copyright 2012 by thebahamasweekly.com

Top of Page