Last Updated:

Feb 6, 2017 - 2:32:04 PM
---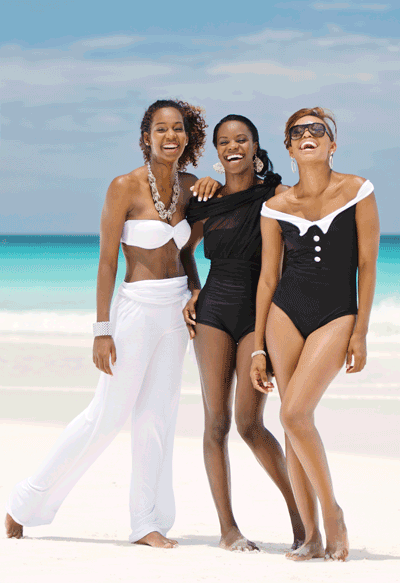 Latoya Hanna-Moxey is a woman who's used to wearing many hats. Corporate diva, mother, chandler and now fashion designer with the recent launch of her swimwear line Minka. You can call her a Maven of all trades, entering into the world of entrepreneurship with Maven Candles, her line of handmade soy based candles launched in 2009.

Here is an intimate glimpse into her motivation for venturing into the world of fashion design with Minka, her design process and plans for the future.

When did you decide you wanted to pursue fashion design?

I wanted to pursue Fashion, ever since I was a little girl, since watching my mom and other ladies model on the local scene back in the 80's and all throughout high school and college when I got a chance to express myself through clothing.

Why the name Minka? Tell us the significance of choosing that name for your brand.

I love the name! It's simple, feminine and easy to remember. Although it means Strength! Something I continue to achieve as I pursue my goals and dreams.

Give us a three sentence synopsis of your brand and your line.

Minka is for every woman! It is chic, timeless, playful and practical. …Soft highlights and bold colours popping onto what we consider (a second skin) fabric that feels and looks amazing on everyone.

Name your top three fashion designers and give one reason why you love their work.

WOW! That's hard. I love so many, my favorites change a lot. At the moment I am fascinated with Diane Von Furstenburg, I think her style is so classic, very lady like. I also love Marchesa, I'm a girlie girl and just love how they appeal to every woman yet make her feel and look pretty and of course Rachel Roy. She's hot now! She's dressing everyone from First Lady Michelle Obama to Oprah, AND she's affordable. Her style is so modern and sexy. It makes you feel very "womanly".

How would you describe you personal approach to design. What is your niche or preferred market?.

My Market would be women ranging mid 20's and up. I prefer to focus on the different shapes of women as opposed to different ages of women. The result I hope to accomplish a feeling of comfort, sexiness and classiness in a Minka.

What is your process from inspiration to finished product? Do you have a ritual when it comes to designing or garment construction?

I consider everything when it comes to design including the feel, the look, what appeals to me most, the femininity and elegance of a "finished product".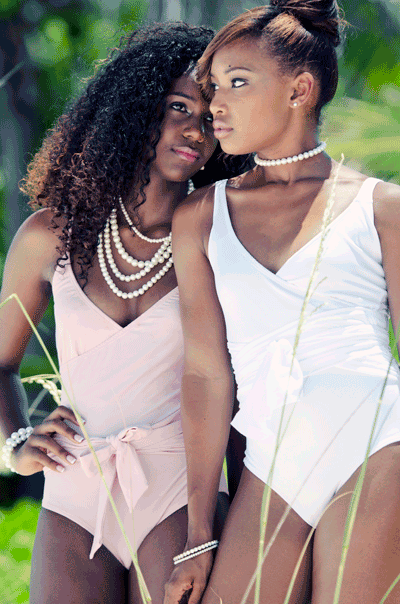 Where do you get your design inspiration?

I am inspired by my own personal style and from my friends and paying close attention to local and international "fashionistas". I love the styles of distinguished women and celebrities like Lady Pindling, Jackie Kennedy, Angela Bassett, Cate Blanchett and others, to me they all embody a classic and iconic style that is both strong and feminine.

What's your favorite trend for summer 2011?

The Maxi Dress! Vibrant and Colorful nail polish (on the toes), Aviators, straw fedoras and Minka OF COURSE!. I love the cool comfortable look that says VACATION! Its summer and this is the only time to dress, act and feel like a tourist when you're not working I think.

What has been your greatest challenge in designing this line?

My greatest challenge has been staying focused on a few styles. My mind is always wondering and I constantly think of designs daily, and that confuses my thought process sometimes because I always want to add to the collection but I try to remember limits and refocus to the plan.

What is your greatest accomplishment to date?

Being a mother is my greatest accomplishment. My husband and I have two beautiful children that at the end of the day are the most value to my days, life and energy. They inspire me to do more that I thought I was capable of.

What is one piece of advice you would give someone with no formal training who wanted to start a career in fashion design or establish their own clothing line?

Express yourself and make whatever you do COUNT in all the ways meaningful to you! As someone once said to me, it is a lot easier to be a critic than it is to accomplish things! I always remember that and it makes me not focus on what others think I am capable of, rather it makes me REALIZE what I am capable of, I'd share that.

What are your future plans? Endless opportunities!

I want to expand Minka, work on a few more projects related to swimwear and outside of swimwear, travel and be a part of a few fashion weeks in the next 18 months, and focus on The MaVen Branding as a lifestyle company.

How can readers contact you and purchase your pieces?

At the moment we are available via the web, you can e mail us minkaswimwear@live.com until our website has been completed. We are also in talks to be carried in some stores this fall.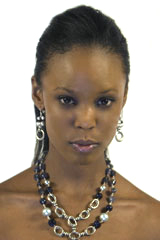 Tyrina Neely

Tyrina Talks Fashion is your weekly serving of fashion forecasting, trend reporting, figure analysis and helpful fashion tips and tricks. Email Tyrina with your fashion questions and photos at tyrinaalicia@hotmail.com . Visit www.primadonasales.com





© Copyright 2011 by thebahamasweekly.com

Top of Page