Last Updated:

Feb 6, 2017 - 2:32:04 PM
---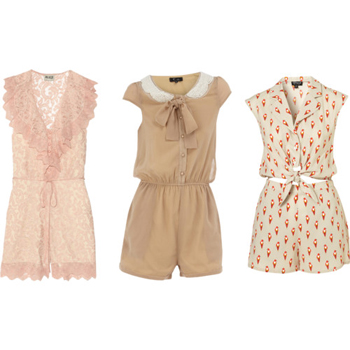 Rompers and jumpsuits catapulted back onto the fashion scene in 2006 and have been trending steadily for seasons since. It's a trend that many women feel is best reserved for the very young and very thin, but rompers come in a wide variety of styles, with options to suit every age and size.

Lightweight, comfortable and versatile, like the perfect little dress, rompers too can take you from day to night. To add to its appeal, it's an all-in-one outfit. Throw it on, toss in some simple accessories and a great pair of shoes and you're out the door.

Many fashion writers have relegated the romper to the Do Not Wear category - but if you've been thinking about adding this fun and sexy item to your collection, here's a little guideline on what style of romper or jumpsuit to choose to best flatter your figure.



Full Figured



If you're full figured and curvy, but comfortable with showing a little leg, a traditional romper can work for you. With wider hips and fuller thighs, it's important to look for a style with a medium to full length short.

Rompers have a reputation for being unforgiving, so look for tailored styles in fabrics that are slightly heavier and won't cling to your every imperfection. You want your romper to play up your curves, not cling to them.

If you would prefer to highlight your upper body and cover your legs, a jumpsuit is more up your alley. Jumpsuits are all-in-one like rompers, but with a full pant leg. Jumpsuit styles range from fun and sexy club wear to classic conservative styles that can even work in the office and cocktail occasions.


Boy Shaped



If you're lacking in the curves department, you want to look for a romper style with strategically placed frills and added details.

Lithe figures can carry a little extra bulk, and details such as ruffles, floral appliques, pleating etc help to add volume and and create the illusion of curves on a boyish figure.

If you desire a little extra volume on top, many rompers feature ruffles at the neck and bust line which creates the illusion of a fuller bust. A strapless, sweetheart neckline with a built-in underwire and slight padding will also help you visually augment a smaller bust.

Romper styles also feature ruffles or tiers on the short portion, which help to create womanly curves at the hips. Pockets, contrast piping and other details in the hip area also help to soften a boyish figure and make it appear more curvy.

Whether you're full figured and curvy or thin and boyish - rompers should almost always be worn with a belt, unless they feature a built-in belt or cinching at the waist. It's very important to highlight the waist when wearing a romper or jumpsuit to create a balanced, hourglass silhouette.

Rethink your go-to dresses this summer and experiment with versatile rompers. A chic black romper can easily replace your little black dress this summer for a fun, trendy take on a wardrobe staple.


Tyrina Neely

Tyrina Talks Fashion is your weekly serving of fashion forecasting, trend reporting, figure analysis and helpful fashion tips and tricks. Email Tyrina with your fashion questions and photos at tyrinaalicia@hotmail.com . Visit www.primadonasales.com





© Copyright 2012 by thebahamasweekly.com

Top of Page