Spurred on by the entrancing beat of goat skin drums, eight barebacked male dancers donning tribal paint exploded onto the runway heralding the start of the third annual Islands of the World Fashion Week (IWFW.)
Five Bahamian designers joined by over 10 designers from island nations around the world including Jamaica, Turks & Caicos and the Dominican Republic, converged at the British Colonial Hilton for the three evening event which ran from Friday, November 11 to Saturday, November 13. Here are the highlights of the fashion week.

Day 1 Highlights

Harl Taylor Bag – The Bahamas
According to Nick Verreos, "everybody needs a Harl Taylor Bag," or cell phone case or belt. The veteran Bahamian brand showed classic variations of their straw handbags, but also peppered in some new straw accessories including a natural and black straw cell phone case and a pink, jeweled, straw waist belt.
The Junkanoo bag, a stand out piece from the collection, features layers of straw in contrasting colors designed to resemble fish scales; inspired by Taylor's close relationship with his father, a yachtsman. Laptop satchels and travel pouches from the Harl Taylor Male Bag collection were also showcased.
Several pieces from the 2010 collection feature the spider web plait. An intricate and little-used technique, the spider web plait has been perfected by Mrs. Knowles, a plait lady from Dead Man's Cay, Long Island who weaved the raw straw by hand for use in the collection.
Harl Taylor Bag, launched by the late Harl Taylor, lives on through his mother, Beverly Taylor. Mrs. Taylor states she is dedicated to "bringing alive [Harl's] designs from his sketches," and every Harl Taylor Bag produced is based off of designs that were sketched by Harl himself.
David Rolle – The Bahamas
Crowd favorite and winner of the IWFW NextGen Award, David Rolle tempered the color on the runway with a dark color story, consisting primarily of black with hints of silver. The collection was Rolle's first and with no formal design training, he presented a consistent collection inspired by the ravages of war. "I am just a dramatic person," served as David's reasoning behind sending models down the runway with hands behind their backs, restrained by silver handcuffs.

"His lines were clean and his show took you to another world," stated veteran Bahamian designer Brynda Knowles. Rolle's opening look, a deep v-neck, black and white striped top with an over sized collar finished with roped upholstery trim, speaks to his experience as a fabric stylist who often experimented with upholstery.
Architectural, triangular spiked shoulders added edge to little black dresses and midriffs got face time with sequined, asymmetrical beaded bra tops paired with ruched harem pants.
For the men, standout looks included a v-neck, silver lurex sleeveless top paired with black and white trousers and calf length military boots as well as a black and silver blazer paired with a black and white printed button down and silver silk dupioni, tab front trousers.
As winner of IWFW's Next Gen Designer Award, Rolle won a scholarship to attend Parson's New School for Design.
Guest Designer: Jay McCarroll - USA
Winner of Project Runway season 1, McCarroll's collection shown at IWFW was his first in years. Color blocked knit dresses dominated the runway styled with coordinating bands on the arm and sock covered heels, which initially resemble boldly colored wedge booties.

Day 2 Highlights
Theodore Elyett – The Bahamas
As winner of The Runway to Fashion Week, a local competition loosely based on the television reality show Project Runway held several weeks before the start of Island of the World Fashion Week, Elyett won the opportunity to show a collection at IWFW.
And then there was color. Elyett's collection, replete with bold color and prints was produced with fabrics from local textile manufacturer Bahama Handprints.
Asian themes permeated the collection of kimono inspired jackets and Japanese obi inspired belts.
A standout look was an animal printed, tie-neck blouse with short ruffled sleeves paired with a high –waisted balloon pencil skirt.
Guest Designer: Oliver Tolentino – Philippines
If you had closed your eyes a second before Oliver Tolentino's show began, when you opened them you were instantly transported to decades past with his prim and proper, ladylike collection.
Often called the Philippine's Valentino, Tolentino presented a collection where each piece seemed to be prettier and more intricate than the last. Detailed, pleated bodices, sweetheart necklines, full skirts and thin belts on everything, made for an ultra-feminine collection.
A standout look was Tolentino's multi-colored sequined blouse paired with purple, high-waisted silk dupioni trousers, cinched with a Japanese Obi inspired belt.
But it was his formal cultural gown that made jaws drop. Crafted from a textile derived from the pineapple plant and raw silk cocoon, the strapless gown with its pleated bodice and layered skirt augmented by a dramatic train sent the audience to their feet in standing ovation.
Guest Designer: Indashio USA
Sailor hats and speedos, Indashio's collection screamed fun, fun, fun. Whether it was his tie-dyed denim jacket paired with a pink and gold sequined mini skirt, or neon green fringe mini-dress for the punk, flapper girl; Indashio kept eyes glued to the runway.
The 26-year-old American designer sent the audience howling as he graced the runway during his finale walk dressed in drag. Donning a hot pink, feathered mini-dress, blonde wig and armed with a Red Bull in hand, he grooved to Beenie Man's dancehall hit "Drinking Rum & Redbull."
Day 3 Highlights
Fashion Cares for Haiti: The Relief Benefit Fashion Show
Fashion is as good a barometer as any to gauge the social climate of a country. Neutral color palettes and solid pastels replaced the colorful and patterned designs typically seen from Haitian designers. Easy-to-wear tunics and delicately tie-dyed kaftans in natural fabrics such as cotton and linen ruled the runway in several collections - a return to no-fuss, wearable fashion.
Seven Haitian designers showed on the IWFW runway, supported by hundreds of attendees and Ambassador of the Republic of Haiti to the Commonwealth of The Bahamas, Antonio Rodrigue. Accessory designers and ready-to-wear designers presented collections inspired by their island nation.
Artisans du Soleil Haiti by Giovana Menard - Haiti
Menard opened her show to the sounds of "Glamorous" by Fergie, and her collection of semi-precious jewelry and glitzy clutches mirrored the theme of the song.
"For the collection, usually I use a lot of colors. We are from the islands, so I am inspired by the sea, the sun and flowers." However in her collection for IWFW, the lawyer turned designer departed from her usual affinity for color in exchange for more natural raw materials from her native Haiti.
Wood and horn from Haitian cows were used to craft the pendants in many of the pieces.
Jade in a myriad of colors, citrine, amethyst, turquoise and coral were the main stones used in the collection.
IWFW Trends
Oliver Tolentino of the Phillipines, Theodore Elyette of the Bahamas, Michel Chatagne of Haiti and Jay McCarroll of the USA all showed looks styled with Japanese obi belts in their collections.
Asymmetrical necklines, over sized collars, sequins, sequins and more sequins were also popular themes in many of the collections.
IWFW Winners
In Search of the Next Oscar: Georgina Estherr – Domincan Republic
NextGen Designer: David Rolle – The Bahamas
Sustainable Eco Fashion: Oliver Tolentino – The Philippines
Culture & Fashion: Veve Collection by Phelicia Dell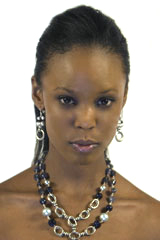 Tyrina Talks Fashion is your weekly serving of fashion forecasting, trend reporting, figure analysis and helpful fashion tips and tricks. Email Tyrina with your fashion questions and photos at tyrinaalicia@hotmail.com. Visit www.primadonasales.com