It's pedicure season! Time to break out your favorite sandals and relegate those closed in shoes to the back of the closet. Get those feet in tip top shape and show them off with a killer pair of sandals.
This summer, there are great sandal trends to keep you comfortable and fashionable while you beat the heat. Save those Old Navy flip flops for beach days, there are far more fashionable and comfortable options to show off your feet this summer.
Platform Sandals
Platform sandals are a huge trend this spring and summer season. They are a great option for those ladies who want all the benefits of heels without the discomfort that comes with teetering atop spike heels.
This year it's all about the flatform - a flat soled sandal or shoe with a high platform heel. The add just as much height as traditional heels but with an even flat sole, walking in them is a cinch. Chunky heeled flatforms work well with the wide leg trousers and jeans that have resurfaced this spring and summer.
Clog Sandals
Clogs were a huge trend in 2010 that's still holding strong for 2011. With 70's looks dominating this spring and summer season, it only makes sense that clogs would still remain in fashion, receiving a mini makeover to make them summer ready.
Kitten Heels
Kitten heels are back! With all the hoopla about sky high platforms and wedges, those ladies who prefer a low heel can rejoice in this diminutive style - a favorite of fashionistas on the go, including Michelle Obama. If you still haven't mastered the art of walking elegantly in four inch heels and value comfort and style then kitten heels are for you.
Now that you've caught up on the hottest sandal styles for the summer, you have to pair those killer shoes with the most au courant nail hues for the summer months!
Nudes
With all the bright hues synonymous with summer, donning an au natural manicure or pedicure means you never have to worry about your nail color clashing with your outfit. From taupe to eggshell, a nude hue is a great way to have a sleek, polished look without going completely bare nailed.
Hues of Blue
Channel the clear blue summer skies with a pale blue hue or the deep ocean waters with a bold turquoise color. Blue is a fun color to perk up your nails and toes for the summer months. If you're a corporate lady, keep this edgy nail hue for the weekends exclusively. More conservative mani-pedi colors work best for the office.
Peachy Pink
This is by far my favorite mani-pedi color family. Whether rocking a bold coral hue or baby pink color, pinks are feminine and flirty - making this color a great option for the summer.
Gray
Gray is one of those hues that goes with everything, a pseudo neutral if you will. It's a great unexpected mani-pedi color that's funky enough for risk taking fashionistas but still conservative enough for corporate vixens.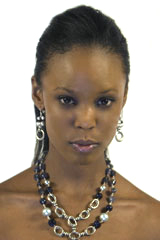 Tyrina Neely
Tyrina Talks Fashion is your weekly serving of fashion forecasting, trend reporting, figure analysis and helpful fashion tips and tricks. Email Tyrina with your fashion questions and photos at
tyrinaalicia@hotmail.com
. Visit
www.primadonasales.com