Last Updated:

Feb 6, 2017 - 2:32:04 PM
---
Scooting out on Saturday afternoons always involves passing the Cable Beach Strip and at least several wedding parties vying for a beautiful backdrop to their summer wedding.

I always slow down to take a quick look at what the bridal party is wearing. For many brides outfitting their bridal party can be more stressful than saying yes to their own wedding dress.

Balancing pleasing your bridal party and choosing styles that are flattering to them while staying true to your vision for your special day can become overwhelming for even the most zen bride. Here are some hot trends in bridesmaids dresses to get the ball rolling on choosing the perfect bridal party attire for your special day.


Trendy Styles
One Shoulder Gowns

One shoulder bridal party gowns are a huge trend this year. This style is a great option for the bride who wants a modern edge to her wedding but may not be willing to stray too far away from a traditional wedding dress herself. Opting for modern bridesmaids dresses gives your wedding a modern edge even if your dress is traditional.

Modern bridal party styles are practical for bridesmaids who may be wary of shelling out hundreds on a dress they'll only wear once. The more on trend the dress, the greater the likely hood that your bridesmaids will wear it again or easily alter it for future occasions.



Cocktail length dresses are a great option for brides who want their bridesmaids to stay chic and cool at a summer wedding. Shorter than a tea length dress, cocktail length dresses typically hit just above the knee.

This style is tres chic at the moment, which means designers are offering tons of options in this dress length. Though you may be opting for a shorter length dress, you won't be sacrificing style or elegance. An added benefit is shorter dresses tend to be less expensive than traditional floor length bridesmaids dresses.



The maxi dress is here to stay and this universally flattering silhouette is becoming increasingly popular as a choice for bridesmaids dresses. A no brainer for the bride who has a bridal party with women of varying shapes and sizes, a maxi dress is just as flattering on a size 2 as it is on a curvy size 22.

Lightweight fabrics such as chiffon give this free flowing silhouette an ethereal flair, making it ideal for tropical summer weddings.



For many brides, choosing a color scheme is more stressful than choosing a style of dress for their bridesmaids. A trend that is resurfacing this year is having a uniform color scheme but allowing brides to choose their own dress style. This allows bridesmaids to choose a style they are most comfortable with and adds personality to your wedding.



If your wedding is theme is chic and modern, then black is a sleek color option to consider for your bridal party. This universally flattering color is slimming, looks great on almost every complexion and looks rich even in lower quality fabrications.

You can add a pop of color to your bridesmaids' look with bright bouquets or subtle details. Adding a bright pink sash to a sleek black dress lightens it up and gives it a chic edge.

Choosing your bridal party's attire can be a little stressful but it should ultimately be fun! A good bridesmaid will be happy to support you on your big day and wear whatever it is that makes you happy.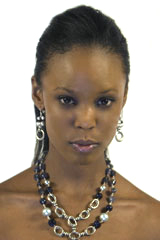 Tyrina Neely Tyrina Talks Fashion is your weekly serving of fashion forecasting, trend reporting, figure analysis and helpful fashion tips and tricks. Email Tyrina with your fashion questions and photos at tyrinaalicia@hotmail.com . Visit www.primadonasales.com





© Copyright 2011 by thebahamasweekly.com

Top of Page