Last Updated:

Feb 6, 2017 - 2:32:04 PM
---
You can't change the body type you have been given, but you sure can dress it in a way that complements your attributes and minimizes your flaws. The truth is, no matter how stylish, expensive or beautiful your outfit, if it doesn't complement your body type then it won't work for you. Many of us get caught up in our size, however in fashion it is important to shop primarily for your shape, not your size. Your body shape is determined by bone structure and genetics and no matter how your weight fluctuates, for the most part your body shape will remain the same. Whether you're a size 2 or 22, knowing your body shape will help you choose the best pieces for your figure instead of choosing pieces that are cut for your size but not flattering for your shape.


There are 7 common figure categories and most bodies fit clearly into one. Classifying them by geometric shapes makes the figures simple to identify.

Triangle
Inverted triangle
Rectangle
Hourglass
Oval
Diamond
Figure Eight


This week it's all about the rectangle shape. Read on to determine if you have a rectangle shaped body, the highlights and problem areas of this shape and the best tips for dressing this body type.

How to tell if you have a rectangle shaped body
The rectangle shaped body is fairly easy to identify. It is straight up and down with even weight distribution throughout the bust, midsection and hips. Petite rectangle shaped bodies appear to have a naturally athletic or "boyish" build with understated curves. If you are fuller figured, you may have minor curves with an average bust and hips.


Pros
The benefits of having this shape is that you tend to gain and lose weight proportionately. Your frame is very balanced and your top, bottom and midsection are relatively the same size. Your strong shoulders and narrow hips are some of your best features that should be highlighted when you choose your attire.

Cons
The main difficulty in dressing a rectangle shaped body is the lack of a defined waistline.

How to dress this shape

The ultimate goal of all figures is to create an hourglass silhouette. The rectangle shape is well balanced and the focus should be on creating a defined waistline to create the illusion of a narrower waist.

Though you may have a smaller bust line, open necklines are most flattering on you. V-necklines, U-necklines and other similar tops open your neckline and visually elongate your frame to balance out your wide torso. Tops that cinch just under the bust or at the waist will be flattering to your figure. Likewise, tops with details at the bust such as beading, sequins or ruffles will also be flattering.

You can also add dimension to your frame by using colors, patterns and accessories to break up your silhouette and create the illusion of curves. When wearing separates, a patterned top paired with a solid bottom and a thick belt at the waist or low slung around the hips will create the illusion of curves and dimension. Boot cut pants and fuller skirts such as A-line skirts and ones with pleats add a little volume to the hips to create the illusion of a curvy silhouette.

When wearing a dress, especially one that is one solid color, opt for details that will draw the eye in at the waist. Colored side panels, shirring at the waist and anything that creates the illusion of a narrow waist will help to create a more womanly silhouette. Thick belts are also a tool you can use when wearing a dress to create a defined waistline.

Arm yourself with knowledge before you go shopping. Shopping without paying special attention to silhouettes that work best for your figure is like shopping with your eyes closed. Fashion is an investment and choosing quality pieces that flatter your figure help you get the most out of your clothing.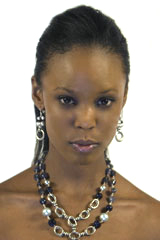 Tyrina Neely

Tyrina Talks Fashion is your weekly serving of fashion forecasting, trend reporting, figure analysis and helpful fashion tips and tricks. Email Tyrina with your fashion questions and photos at tyrinaalicia@hotmail.com . Visit www.primadonasales.com





© Copyright 2011 by thebahamasweekly.com

Top of Page