Last Updated:

Feb 6, 2017 - 2:32:04 PM
---
She's officially been the The Duchess of Cambridge for less than four months and she's already making fashion waves the world over. Kate Middleton and her sister Pippa have been busy making the rounds, and rarely make an appearance without finishing their look with a pair of sheer nude pantyhose with a slight sheen.

With celebrities including Sarah Jessica Parker, Mischa Barton and Hayden Panattiere riding the nude hose wave along with the royals, it's only a matter of time until this trend officially crosses the pond and trickles down.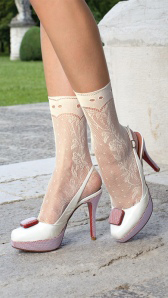 Nude pantyhose are one of those fashion accessories that has gotten a bad rep for decades now. Ever since the casual friday era took hold in the nineties, nude hose were seen as a sad burden laid upon professional women whose office dress codes demanded they wear them. However, the power of the perfect nude hue to hide skin imperfections and make your gams look virtually flawless cannot be understated.

But for those who still can't bear the though of slipping on sheer nude pantyhose in their everyday life,luckily the world of hosiery extends far beyond this trend. There are some other hot hosiery trends you can don now in the heart of summer and others you'll want to keep on your radar as the weather starts to cool down and we welcome the fall season in the coming months.

Summer Hosiery Trends

Ankle Socks

Ankle socks are fun, youthful and great for fashionistas who live in hot climates! Fun prints and textures including lace, fishnets and polka dots male it a cinch to add a little personality to even the simplest look. When wearing ankle socks with a busy print or texture, ensure that your shoes are the same color as your tights to keep your look cohesive and pulled together.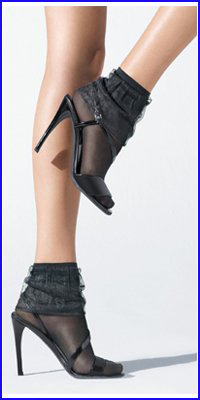 Pleats, Ruffles & Tassels

It' time to take it back, way back, back to when you wore ruffled socks with your church dresses. If you're looking for a way to inject a little femininity and romance into your wardrobe, adorable ankle and calf socks adorned with ruffles and pleats are a fun way to do so.



Fall Hosiery Trends

White on White

That old fashion tale that forbade self respecting women from wearing white after labor day is just that, an old tale. There are few things more ethereal than rocking white on white. As the weather cools, pairing a feminine and flirty white day dress with delicate white lace thigh high tights and nude shoes is perfection!


Ethnic Prints

Looking for a way to spice up that little black dress you've worn more times than you'd like to remember? A pair of patterned animal print tights is a simple and low cost way to change up your look in seconds. Keep everything else black. Black, animal print and red details is a common combination, however when wearing full animal print tights it's better to keep the rest of your look the same color and allow the tights to shine.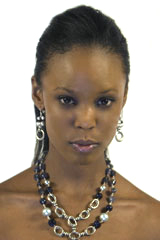 Tyrina Neely

Tyrina Talks Fashion is your weekly serving of fashion forecasting, trend reporting, figure analysis and helpful fashion tips and tricks. Email Tyrina with your fashion questions and photos at tyrinaalicia@hotmail.com . Visit www.primadonasales.com





© Copyright 2011 by thebahamasweekly.com

Top of Page