Last Updated:

Feb 6, 2017 - 2:32:04 PM
---
It's swimwear season again! Don't commit the cardinal fashion sin of throwing on a T-shirt and tights to take a dip, there are far too many flattering swimwear choices for every figure to be caught "half stepping" while you're sunning and splashing.

Swimwear is one of the few wardrobe pieces we tend to update each and every season. After several trips to Rose Island and random beach days to seek relief form the sweltering summer heat chances are you've maxed out all your photo ops in your lived in suits and are eager to update your swimwear arsenal. This means you can be trendy with your choices. Here are some of the top swimwear trends for 2011.



High-waisted bottoms, psychedelic prints and bustier inspired tops are all the rage for glamorous women who are looking to the past for their current swimwear choices. Take a cue from the disco era of the seventies with bold gold, copper and bronze metallic suits that'll have you glistening in the summer sun.




If you're the adventurous type, this trend's for you. You can look like you're heading to the Serengeti even if you're just venturing to the beach just around the corner. Ethnic inspired prints are popular this season with designers sourcing inspiration from exotic locales including Morocco, Aboriginal Australia and other culturally rich nations in Africa.



Animal prints are truly a classic but still manages to remain sultry and sexy enough to be considered a trend. Whether cheetah, zebra or leopard print tickles your fancy an animal print bikini is sure to have you feeling like a dive as you bury your feet in the sand. Other fun animal inspired prints to consider are peacock, python and even crocodile.




Many swimwear lines offer separate tops and bottoms that can be mixed and matched for the daring fashion aficionado. Leopard print top and polka dot bottom, it's your choice and you can be as daring as you like. Coordinate two funky trends for an eye catching look or play it a little safer with simple color blocking.



Buckles and zippers, chain links and buttons - sleek swimwear is being held together with chic jewelry inspired hardware. Luxe details make even a simple black suit stunning and sophisticated.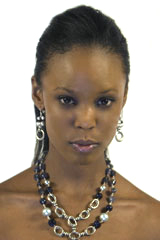 Tyrina Neely

Tyrina Talks Fashion is your weekly serving of fashion forecasting, trend reporting, figure analysis and helpful fashion tips and tricks. Email Tyrina with your fashion questions and photos at tyrinaalicia@hotmail.com . Visit www.primadonasales.com





© Copyright 2011 by thebahamasweekly.com

Top of Page