Last Updated:

Feb 6, 2017 - 2:32:04 PM
---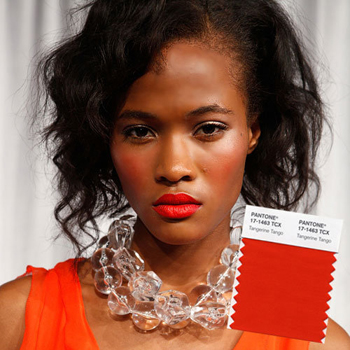 Orange is the new black. This cheeky phrase was coined with the slew of celebrities donning orange prison gear for their bad behavior in recent years, but it's even more relevant now that Pantone, the authority on color, selected tangerine tango as the color of the year for 2012.

The year 2011 saw a bright pink hue dubbed honeysuckle as the color of the year and 2012 builds on the selection of cheery colors with this vibrant reddish orange hue. A welcome burst of colour when compared to the subdued neutral hues that dominated fall.

According to Leatrice Eisman, executive Director of the Pantone Color Institute, tangerine tango is dramatic and seductive while remaining sophisticated. "Reminiscent of the radiant shadings of a sunset, Tangerine Tango marries the vivaciousness and adrenaline rush of red with the friendliness and warmth of yellow, to form a high-visibility, magnetic hue that emanates heat and energy."

This bold hue works just as well when paired with other bold colors such as seafoam green and cobalt blue as it does with muted pseudo neutrals such as olive green and beige.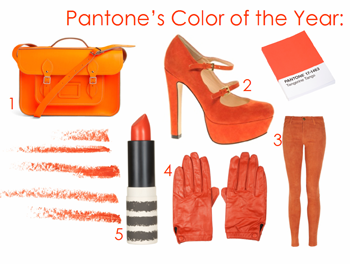 How To Wear It

At the Office

If your corporate culture demands a conservative look, adding the tiniest style elements can make all the difference between looking stiff and drab and office-appropriate and stylish. A square, tangerine silk scarf neatly layered under a suit jacket or over a structured a-line dress will add a bold color near the face, beautifully playing up warm complexions and drawing the eye to the face.

Lazy Spring Day

There are few things as darling as a feminine dress in a cheery hue. For a casual day of lunching or running light errands slip on a flirty day dress in bold tangerine tango. Pair your ultra-feminine dress with espadrilles or embellished flats for a look that welcomes spring.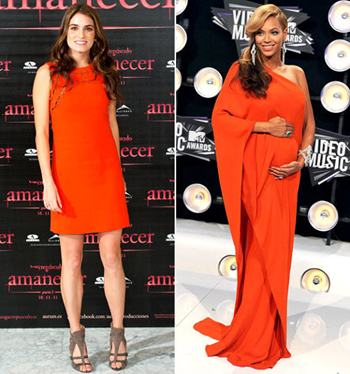 Night On the Town

A bold hue is an easy and clever way to draw the eye to parts of the body you want to highlight. Great legs? A chic mini-skirt in tangerine tango is a surefire way to draw attention to your stellar gams. Long neck and great collarbone? A sleek one shoulder blouse in tangerine tango will draw attention to these areas.

Take a walk on the wild side with tangerine tango. It's complimentary on most warm complexions and will surely add some cheer to your wardrobe throughout the year.



Tyrina Neely

Tyrina Talks Fashion is your weekly serving of fashion forecasting, trend reporting, figure analysis and helpful fashion tips and tricks. Email Tyrina with your fashion questions and photos at tyrinaalicia@hotmail.com . Visit www.primadonasales.com





© Copyright 2012 by thebahamasweekly.com

Top of Page