I have a confession. This fashion addict has been working like a mad woman lately and I have thus traded in my heels for flats. It gets worse. My shoe preference of the moment - a pair of worn in $5 flip flops from Old Navy. I am staging my own intervention.

If you find yourself running around more than usual this summer and regrettably reaching for a pair of flip flops that do nothing for your look far too often, consider this your fashion prescription for better shoe health.

You don't have to sacrifice style for comfort. There are a ton of comfortable shoe options on the market that will keep your feet happy as you make your rounds without ruining your look. Here are a few options to get your fashion juices flowing.

Espadrilles

This Pyreneese fashion export is a great alternative to flip flops if you want to keep your feet flat on the ground with a little extra coverage. Traditionally, these casual shoes have a canvas or cotton upper with a jute rope sole that is flexible.

Espadrilles come in many styles. There is bound to be a style that suits your taste from lace-up versions with a moderate wedge heel to completely flat versions in fun summery prints.


Ballet Flats

You can't go wrong with a pair of ballet flats, they are a timeless investment. Feminine, practical, comfortable and oh-so-adorable they look just as great with a pair of summer cut-off jeans as they do keeping a bride comfortable in her wedding gown at her reception (my friend wore the most adorable ballet flats after her nuptials!)

It's no wonder almost every major designer has a popular ballet flat in their repertoir. My heart pines for the Parisian brand Repetto. With a selection ranging from funky leopard print patent leather styles to conservative supple calf skin in subdued hues - it's a great brand to invest in if you want your ballet flats to stand the test of time.


Oxfords
When it comes to cool, few shoe styles fit the bill as well as a stellar pair of oxfords. Oxfords are as versatile as they are timeless. These laced shoes first appeared in Scotland and Ireland. They are occasionally referred to as Balmorals after the Queen's caste in Scotland named Balmoral.
Forget those overly masculine versions of the past. Designers are pushing out beautiful feminine and summer-ready oxfords that allow your feet to breathe with the perfect balance of hard edge and soft femininity.
If you're readying yourself for your summer shopping trip or making room for a few new pairs of shoes for fall, make sure a comfortable and stylish pair of summer flats is on your list.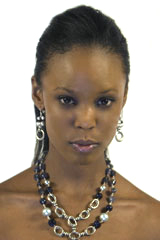 Tyrina Neely

Tyrina Talks Fashion is your weekly serving of fashion forecasting, trend reporting, figure analysis and helpful fashion tips and tricks. Email Tyrina with your fashion questions and photos at tyrinaalicia@hotmail.com . Visit www.primadonasales.com