Driving down the Cable Beach strip the other morning I spotted a chic lady dressed in crisp winter white. The monochromatic white ensemble was eye catching and both myself and my passenger spotted her at the same time. The passenger in the car gasped, "isn't white passe after Labor Day?"


I've always maintained that for the most part you can make up your own fashion rules, if you love it and feel confident in it then rock it! Needless to say there are some outfits that should never ever see the light of day, but a chic winter white look is surely not one of them. The fashion rule governing no white between Labor Day and Memorial Day, two major US national holidays falling in September and May respectively, centers more on white summer staples such as linen pants and the like.


The crispness of the brisk breeze that accompanies our mild winters makes wearing a clean white ensemble even more enjoyable. Keep these seven tips in mind to wear winter white right!
Off white, cream and ivory
are easier to wear and more complimentary on most skin tones than stark white. These slightly more subdued hues are just as bold when paired with
Wool, cotton, satin and silk
are great fabric choices for winter white pieces. Steer clear of sheer, lightweight styles and fabrics such as linen, which are more appropriate for summer wear.
A knitted white dress
is an unexpected way to bring the brightness of summer to winter. Pair it with opaque tights and boots or booties for a relaxed, yet pulled together look that can work for an evening out or a casual Friday.
Layering a white cardigan
over your outfit will brighten up your look while giving you that extra warmth you need as the temperature drops.
A white handbag
is a fun alternative to your everyday black or brown carry-all. It works as a pseudo-neutral and will work with most color pairing and patterns.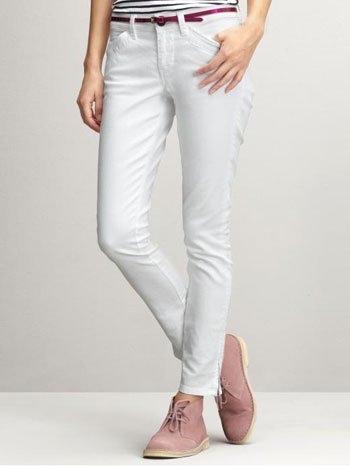 Crisp white trousers
always tend to remind me of the effortlessly chic women that call the French riviera home. The clean yet minimalist look of simple white, flat front trousers paired with bold red or blue on top is classic yet au courant.
White shoes are out!
I have never been a fan of white shoes. You can get away with wearing a barely there white sandal during the summer, however a white shoe during the winter is sure to be an eyesore.
Are you dreaming of a white holiday season? Don't be afraid to incorporate crisp white pieces into your winter wardrobe to add a little brightness to your looks.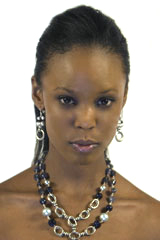 Tyrina Neely

Tyrina Talks Fashion is your weekly serving of fashion forecasting, trend reporting, figure analysis and helpful fashion tips and tricks. Email Tyrina with your fashion questions and photos at tyrinaalicia@hotmail.com . Visit www.primadonasales.com