Last Updated:

Feb 6, 2017 - 2:32:04 PM
---
The Bahamas weekly celebrates a major milestone as

we have now exceeded 10,000 articles!

In our endeavor to provide a valuable resource for persons globally seeking information on the Bahamas, The Bahamas Weekly News Team is proud to announce this achievement.

The Mackey - Whachell duo jointly started TheBahamasWeekly.com on January 1, 2006 after departing from the gbweekly domain. We did so to more accurately depict the country that we love and proudly represent.

We invite all persons and organizations with valuable news content, human interest stories and inspiring letters to the editor to write us at info@thebahamasweekly.com; we want to hear from you…the world is waiting!

The Bahamas Weekly is updated continuously throughout the day, and people check us often for what's going on throughout The Bahamas. Many set The Bahamas
Weekly as their home page. For social media buffs, The Bahamas Weekly content is also available through Twitter and Facebook. Advanced users subscribe
to
TheBahamasweekly.com through

RSS

; RSS subscribers can opt to receive our overall feed or can subscribe by category. To receive

free

regular weekly servings of our top 70 articles of the week, be sure to become a subscriber to our weekly news updates (form below), which will be emailed directly to your inbox. For those specifically seeking multimedia content to enjoy through

Itunes

our content is freely available for download to the Ipod, Itouch, Ipad and other portable devices by subscribing to our Podcast.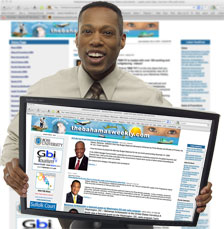 The Bahamas Weekly, as a major hub of information on The Bahama Islands is the portal for advertisers to be seen globally. A look at the left-hand column of TheBahamasWeekly.com and the right-hand column reveals the level of confidence that advertisers have in The Bahamas Weekly. With our vast global reach and prominent placement in Google, Yahoo, Bing and other search engines, The Bahamas Weekly is a valuable portal to have your valuable advertorial content posted. For more information on advertising with us click Here.

We thank our sponsors, columnists and content contributors, especially Bahamas Information Services (BIS) for facilitating this achievement as we progress forward to the next 20,000 articles and counting…














© Copyright 2010 by thebahamasweekly.com

Top of Page