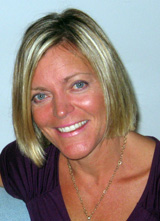 I just completed the half marathon (Marathon Bahamas) with my team, the Ripped Chix in Nassau on Valentines Day. It was a first for 3 out of 5 of us and a first for the token male on our team we call a " Ripped Chuck". Our team members came together last spring when a seed was planted to participate in the Conchman Sprint Triathlon in Freeport. With the exception of me, sports activities had played a minor role in the lives of our team members and certainly none had ever participated in a Triathlon.
When I came to Freeport nearly a year ago I was looking to connect with like minded people and have some fun too. I had no idea what to expect moving from my busy life in Vancouver, and was completely open to any and all possibilities. Since I am not working here in Freeport, I have some time on my hands and it was up to me to make connections and find the fun for myself.

So I joined this group of women to train for a Triathlon. We trained together at least three times a week between work, travel and weather patterns. At one point in the summer we had to train at 5:30am to avoid the unbelievable heat and humidity and even at that time it was close to unbearable. I had trained for many races and nothing was harder then running in that heat. There were many times when we didn't want to get up early, our legs didn't want to move one more step, brave the ocean waves one more time, or sit on that bicycle one more time.

I began to notice that the very thing that was making it difficult was the very thing that was holding us together and actually making the training easier. We all had the common goal, we also had the common challenges, that being keeping motivated when we wanted to quit, sleep in, eat poorly, or skip a workout. We found a way to have fun when it was difficult, laugh at ourselves…… a lot, and keep the goal in sight. The more we connected and understood each other's individual challenges the more motivated we became. The motivation came from the connection with each other, the race was secondary.


When we successfully completed the Triathlon, we were on to our next challenge, the Marathon Bahamas half marathon, 13.1 miles. This too had its own unique challenges, building up to 13 miles takes a toll on the body and mind. In the beginning 30 minutes was as long as most of the team members had run and we had to build up to running over two hours. We followed a fairly advanced 13 week training program and all successfully completed the race.

What I loved about this experience was how the emotional connections and our friendship with each other helped us overcome the physical challenges. The relationships to each other and our wonderful supportive spouses became more important than the race itself.

There are countless books written on how to transform your life, keep motivated, set and successfully reach goals. Many are based on behavioural tricks, deprivation often leading to short term changes.

Relationship is the most important component of transforming anything in you life. Whatever you chose to do, participate in a race, learn how to cook or raise money for Haiti, you can accomplish anything if you have an open mind, passion, laughter, and most importantly loving friendships.

Be the change you wish to see in the world

Ask Lisa:
Dear Lisa,

I love Valentine's Day but my wife does not. I love the idea of spoiling her and making the day special but she is not interested at all. I still made a special dinner for her but her attitude puts a damper on my day and my effort. What can I do for next year so I can still celebrate without it ruining the day I love.
Thanks
Will

Dear Will,
Wow, many women would sure be happy that you love to celebrate Valentine's day and spoil your wife like you do. She is lucky to have you show your love for her as you do.
Of course there is nothing you can do to make her feel any different about Valentine's Day. What you can do is ask her how she feels about the day and be open and understanding of her feelings. Often people feel pressure on that day to feel more love then they actually feel in the moment and the can kill any or all romantic feelings.

The questions for you to think about are, do you have any expectations for that day? Is any of your celebration connected in any way with you getting something, more love from her, intimacy, or something that is going to make you feel good about yourself? What is your intention in giving her a special Valentine's day?
If we have any expectations to get love from anyone we will surely be disappointed. If we have expectations about how that love should look, we will also be disappointed. Love is an inside job, no matter what another person does or says if we do not believe it inside ourselves it will not make us satisfied, and we will always be looking for ways to feel it, to get it from another person.
Valentine's day can be a nice day to appreciate the people in our life that we love, it can also be a day that is filled with superficial and expensive expressions of love.
What would it be like for you to give your wife some of that energy you put into one day and spread it out to the other 364 days, without expectations, and with some fun too. Everyday and every moment is an opportunity to show someone how important they are, seize the day…everyday!

Dear Lisa,
I am single and 45 years old, I have never been married, I have a full social life, a great job, I date,I have tried dating sites but I do not seem to be able to connect with any of the men I have met. Do you have any suggestions on what I can do to meet someone, is there something I am missing here?
Rachel

Dear Rachel,
It sounds like you are out there and mixing with people but possibly you are unsure of what kind of man you would like to meet. Often there is a gap between people we are attracted to and the people that are attracted to us. Ask yourself if the things you are attracted to in a man are unrealistic. Do the things that you hold important match the men that you are agreeing to going on a date with? Are you sacrificing values that are important to you just to be on a date? Such as choosing to go on a date with a person who smokes because he meets other qualities that you like, but you are a non smoker. Be very clear about what things are important to you, what I call the "non negotiable" in a potential partner.

Make a list of 12 things that you value. Values such as non smoker, athletic, strong family connections, interesting hobbies, passion for work etc. Once you have a clear list of 12 things pick one per month that you can work on in yourself. So if you pick family connections, how can you take a step to have a closer connection with your own family.
The purpose of this exercise is to take the pressure off meeting the perfect partner and instead focusing on improving yourself. And who knows what can happen when the pressure is off!

Ask Lisa a question at lovenlifewithlisa@gmail.com

Lisa de Lusignan MA, RPC
Lifestyle Coach and Counselo