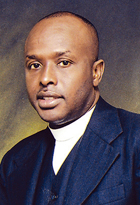 As we celebrate another year of Independence it's always good to God (Yahweh) thanks for His grace, mercy and goodness to us as a nation; collectively and individually. And then we have to be true to ourselves and ask questions like "Where are we going? What's our vision? Are the leaders we're electing qualified & capable of our destination? Or is this just an aimless journey that we're on as a nation?
As a nation, one of our greatest disadvantages as it relates to our Independence is that we didn't have to physically fight for our independence as some other nations had to; therefore Bahamians place very little value on the entire concept of independence.
Watch this!
It was during one of the B.T.C's demonstration on Bay Street that I observed a uniformed Police Officer forcefully took a Bahamian flag from one of the demonstrators; threw the flag to the ground and walked upon it as he tried to push the demonstrator to the side of the street. It's incidence like that and others that call into question our National Pride and where are we going as a Nation?
Say what you want about the Haitians; when it comes to their National Pride and the honoring / respect of the Haitian flag, these people have got it together and also the Americans.
The problem we have as Bahamians is that when it comes to dealing with / confronting controversial issues for the betterment / advancement of the Bahamas; we've been methodically trained to foolishly pray about the situation / issues and God will take care of them for us.
O' Foolish Bahamians, who hath bewitched you?
38 years later, who really cares about the well beings of the Bahamian people? Is it the Politicians, the Religious Leaders, the Civic Leaders, who really cares?
From 1973, to 2011, our Political and Religious Leaders, and other influential voices of our community and government are still making excuses for the prehistoric, ancient, outdated systems that run / control everything in the Bahamas.
In this technology age the Bahamian people have seen governments come and go (P.L.P. & F.N.M.), yet very little positive changes that we as a nation can collectively raise our voices to and be proud.
Some of our Family Islands are in the very same condition (infrastructurally) as they were before and since 1973.
With all of the technological breakthroughs and discoveries that's taking place in this day and time, it's most disappointing to see and know that the generation of tomorrow are not been given a fair chance to compete with the global world; due to today's present leaders failure to see beyond their self interest.
Gone are the days of Statesmen in the Bahamas; for even the celebration of our (so-called Independence) has very little national implications today. The Independence celebration is more of a political football than that of a national event / celebration.
July 10th 1973, was such a proud day in the Bahamas; I remembered seeing my mother cried tears of joy as the Union Jack flag was lowered and our Bahamian flag was hoisted; there was such a great spirit of pride flowing throughout the length and breadth of the Bahamas. Thirty-eight (38) years later, what has happened to us? Where has that pride gone? Where is the spirit of the Upward, Onward and Forward Together?
From July 10th 1973, to the present date the building of the Bahamas could have been (or should have been) somewhat liken to a 4x4 relay race; whereby after each general election and the government changes; the incoming government takes the baton from the outgoing government and runs an even stronger / more productive race in developing the Bahamas. Unfortunately this is not the case as the country is no longer led by Statesmen, but rather by politicians whose primary concern is to get re-elected.
The once Honorable House of Assembly is now just a House where elected clowns / jesters gathers /sits to tear down one another, and to enact laws with great financial kick backs in their direction; all may not be guilty of the same but their silence gives consent.
That pride of July 10th 1973, can very easily be resurrected via our leaders putting their personal agendas aside and begin to think and operate as Statesmen / Stateswomen
What was our forefather's true intent and purpose of the Bahamas being an Independent / Sovereign Nation? What did Clarence Bain, Sir. Alvin Brennen, Sir. Kendal Isaac, Sir. Cecil Wallace, Sir Milo Butler, Sir. Lynden Pindling, etc; envisioned for the Bahamas?
As a proud Bahamian, I would want to believe that with all that led up to July 10th 1973, a vision for the Bahamas was written.
Here's what Yahweh said to the prophet Habkkuk: (Hab.2:2. Write the vision, and make it plain upon tables, that he may run that readeth it.)
And then here's one of the most quoted scriptures of today: (Prov.29: 18. Where there is no vision, the people perish)
Now, here's what Proverbs.29:18. Doesn't say "Where there is no vision, the leaders perish" I don't care for the country's politics but the facts are the facts; and they are "People are perishing for there is no vision.
For questions and comments contact us via E-mails:pastormallen@yahoo.com or kmfci@live.com or Ph.242-441-2021 or 3
Pastors Matthew & Brendalee Allen
Kingdom Minded Fellowship Center Int'l