Last Updated:

Feb 6, 2017 - 2:32:04 PM
---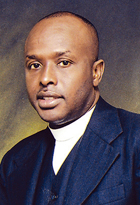 One of my favorite songs is sang by the late great Sam Cooke

"A Change is Gonna Come"

As you're reading this article and we're embarking upon a brand New Year (2013).

If you don't know by now; I think it's only fitting for me to inform you of this evidential fact "Your change is not Gonna Come; It's Here"


Yes! 2013, is here; whether you're ready for it or not, It's here. And it's imperative that you make the necessary changes and adjustments in your ways of living and thinking, if you're looking forward to having / experiencing a better year than last year (2012); that's both spiritually and naturally.


This New Year and the years to come will not hold brief for and be tolerant to anybody that's stuck in the mode of murmuring and complaining

"about all that they've gone through last year, and all of those who have done them wrong"

No, my sisters and my brothers; as of today you must stand strong, even in your weakest moments you're gonna have to muster the God's / Yahweh's ordained supernatural strength that has being lying dormant within for years.


Please Hear Me!

Nobody is about to give you something for nothing; No Government / Politician, No Church / Religious Leader, No Neighbor or even Family Members are going to give you something for nothing; there's a price to be paid. The gift of salvation is freely offered to all mankind, but it was paid for by the blood and death of Yahshua Messiah (a.k.a. Jesus the Christ), as even God's anointing is costly.


Watch this:


Matt.20:
20.
Then came to him the mother of Zebedee's children with her sons, worshipping him, and desiring a certain thing of him.


:21.
And he said unto her,

What wilt thou?

She saith unto him, Grant that these my two sons may sit, the one on thy right hand, and the other on the left, in thy kingdom.
:22.
But Jesus answered and said,

Ye know not what ye ask. Are ye able to drink of the cup that I shall drink of, and to be baptized with the baptism that I am baptized with? They say unto him, We are able.
Erroneous religious teachings would have many to believe that because of God's grace and his mercy they can consistently live a wayward lifestyle and still walk in, and experience the favor of God upon their lives.

Here's what God is saying to us, even today!


Isa.1:
18.

Come now, and let us reason together, saith the LORD: though your sins be as scarlet, they shall be as white as snow; though they be red like crimson, they shall be as wool.
:19.

If ye be willing and obedient, ye shall eat the good of the land:
:20.

But if ye refuse and rebel, ye shall be devoured with the sword: for the mouth of the LORD hath spoken it.
This New Year you can't fall for, or be taken by religious quotations, clichés and pathetic words (so-called, prophetic words).

It's imperative that take you responsibility for your own actions and behavior and strive to make 2013, the year of New Beginnings.

Make it a priority to sever all unhealthy / ungodly relationships, make it a priority not to give into the works of the flesh as mentioned in the scriptures below.


Gal.5:
19.

Now the works of the flesh are manifest, which are these; Adultery, fornication, uncleanness, lasciviousness,
: 20.

Idolatry, witchcraft, hatred, variance, emulations, wrath, strife, seditions, heresies,
: 21.

Envyings, murders, drunkenness, revellings, and such like: of the which I tell you before, as I have also told you in time past, that they which do such things shall not inherit the kingdom of God.
Gal.5:
19.

When you follow the desires of your sinful nature, your lives will produce these evil results: sexual immorality, impure thoughts, eagerness for lustful pleasure,
: 20.

idolatry, participation in demonic activities, hostility, quarreling, jealousy, outbursts of anger, selfish ambition, divisions, the feeling that everyone is wrong except those in your own little group,
: 21.

envy, drunkenness, wild parties, and other kinds of sin. Let me tell you again, as I have before, that anyone living that sort of life will not inherit the Kingdom of God.
It's time for you to start operating as Kingdom Minded Citizens; No longer should you continue to operate in and walk down the path of religion and the traditions of men. It's God's desire that we should live the ABUNDANT LIFE

(Life to its fullest), nothing missing, nothing lacking and nothing broken.

The beginning process of the abundant life living is twofold; many of us within the body of Christ / Messiah have warmly embraced the first fold of the abundant life process which is accepting Yahshua Messiah as our Savior. The struggle, difficulty and challenges we have with the second fold of the process is that of surrendering our all, and all to Him as Lord.
Here's the summation of the two-fold abundant life process:


Rom.12:
1. I beseech you therefore, brethren, by the mercies of God, that ye present your bodies a living sacrifice, holy, acceptable unto God, which is your reasonable service.
: 2.

And be not conformed to this world: but be ye transformed by the renewing of your mind, that ye may prove what is that good, and acceptable, and perfect, will of God.
My Brothers / My Sisters,
Yes!

It's Here, 2013 is here and it's time for us to stop playing church; and be the CHURCH (Called Out Ones) to usher the kingdom of God, in the earth just as it is in heaven.
A Blessed, Prosperous and Happy New Year to you all; may the FOG (Favor of God) literally surround you, your family, your ministry and your business like a shield.

And everything that you put your hands too, may He cause to prosper.





© Copyright 2013 by thebahamasweekly.com

Top of Page