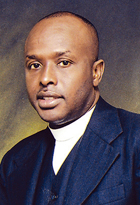 Lk.13:8. And he answering said unto him, Lord, let it alone this year also, till I shall dig about it, and dung it:
: 9. And if it bear fruit, well: and if not, then after that thou shalt cut it down.
One can make all the religious noise and excuses that he / she may wish or even choose to follow the traditional quest of religiously stressing the biblical numbers of the year. The fact and truth of the matter is that "It's expected that we all bear fruit that's fit for the Master's use"
As believers, we can no longer hide behind our denominations, our religious leaders or some other form of religious notion with the belief that because we're saved or claims to be saved that the glory of God, His manifested presence will show up in our lives and affairs.
There will be some major changes / exposure within the church and the lives of many believers this 2011, and onward despite all of the so called prophetic words that have gone forth concerning God's blessings. Words such as Holiness, faithfulness and sanctification seems to bad or profaned words in the church today; whereas if one is not preaching (screaming) about prosperity and God's blessings of a New Car, a House, Money etc; the church-folks have been trained not to receive or even hear any other kind of teaching.
Meanwhile, the enemy is wreaking havoc in our communities and families via Murders, Domestic Abuse, Aids, etc. As a Christian Nation, it's expected that we bear fruit that will bring glory and honor to God (Yahweh). Here's what Yahshua Messiah (a.k.a. Jesus the Christ) said in the parable of which the above scripture verses are taken.
Lk..13.6. A certain man had a fig tree planted in his vineyard; and he came and sought fruit thereon, and found none.
:7. Then said he unto the dresser of his vineyard, Behold, these three years I come seeking fruit on this tree, and find none: cut it down; why cumbereth it the ground.
My brothers / sisters, it is evident that we as a Christian Nation are not bearing the fruit that are bringing glory and honor to God; by the very nature of the blatant criminal activities that are taking place in our communities and the deterioration of family morals and values through the length and breath of our once beautiful, loving Bahama Land.
Yet, despite all the negativity that's going on in our country (Crime, Murder, Moral & Spiritual Decay) all is not lost "For where sin abounded, grace did much more abound"
2011, is and will be An Amazing Year as those saints who have a hunger and thirst for righteousness; and truly understands the virtue of prayer and fasting seeks the face of God on behalf of this nation, we (The Bahamas) will see an unprecedented move of Yahweh; like this nation has never seen; for God's ear is attentive to the cries / petition of the righteous.
As an educated, religious nation; we all know that God will not share his glory with man. Therefore those religious leaders (Internationally & Locally) whom church-folks have ignorantly chosen to worship and exalt due to the eloquent preaching / teaching, penmanship, singing ability or the size of their ministries; God will bring to a place of exposure and shame for their part in receiving that which don't belongs to them (His glory & honor).
Here's the fruit that God is seeking which will usher in His manifested presence in and throughout our lives: Gal.5: 22 - 23. Love, Joy, Peace, Longsuffering, Gentleness, Goodness, Faith, Meekness, & Temperance; against such there is no law.
Prepare yourselves for a mighty move of God ! Yahweh's blessings be with you & your family.
2011, An Amazing Year !
For questions and comments contact us via E-mails:pastormallen@yahoo.com or kmfci@live.com or Ph.1-242-441-2021
Pastors Matthew & Brendalee Allen
Kingdom Minded Fellowship Center Int'l