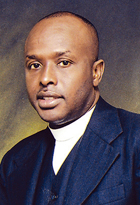 Lk.22: 31. And the Lord said, Simon, Simon, behold, Satan hath desired to have you, that he may sift you as wheat:
:32. But I have prayed for thee, that thy faith fail not: and when thou art converted, strengthen thy brethren.
This word converted in the Greek is: epistrepho, ep-ee-stref'-o; which has several meanings such as (1) to revert, (2) to come or go again, (3) to re-turn about, or again.
Often when a church leader has been publicly disgraced this question is always asked "How a man of God could be accused of doing such a thing?" The simple answer to such a question is this "he hasn't been converted as yet"
I dare to say that there MANY believers within the body of Christ / Messiah who have not yet been converted; they've allowed or is allowing religion and traditions of men to hamper / hinder the conversion process of their relationship with Him.
Watch this!
Satan knew Simon via his past life style / living and had a passionate desire of having Simon once again as a member of his regime; and was intending to make him pay for leaving. Here's Yahshua's summation of Satan's plans for Simon "And the Lord said, Simon, Simon, behold, Satan hath desired to have you, that he may sift you as wheat"
Upon studying the scriptures and the life of the Apostle Peter one would clearly see and very easily conclude that; even as he walked closely with the Messiah, he (Peter) yet had many issues. Being the all knowing one that He is; here's what Yahshua Messiah (a.k.a. Jesus the Christ) said to Peter: "But I have prayed for thee, that thy faith fail not: and when thou art converted, strengthen thy brethren"
It's time for conversion / transformation to take place among the household of faith. For too long we've allow the devil to have his way among those of us who name the name of Christ. We're preaching, teaching and doing a lot of good things in the name of the Lord, but if the truth be told many of us are not honestly living what we're preaching and teaching.
Every time a church leader falls it weakens the faith of some believers who was looking to the church for strength and support in these trying times. Ignorance and religious stupidity would say "If a believer's faith is weaken by the fall of a church leader; it's not the leader's fault, the believer should be trusting in the Lord and not the church leader" Again, I call such sayings "Ignorance and Religious stupidity"
In the secular world and especially among fortune five hundred companies it is said and it is also a proven fact that everything rises and falls upon leadership.
Think it not strange that Yahshua said to Peter "when thou art converted, strengthen thy brethren"
Is today's church about strengthening the brethren or about building up and promoting the Religious Leader / Man of God? In studying the scriptures, after the day of Pentecost and the out pouring of the Holy Spirit the saints were strengthen and bold in the things of God; they were united, they loved and cared for one another and had all things common.
Acts.2: 44. And all that believed were together, and had all things common;
:45. And sold their possessions and goods, and parted them to all men, as every man had need.
Being converted or conversion is at its best when started from the head / leadership which ultimately benefits the entire body / sheepfold. Here's another classic example of conversion at work in a Holy Spirit led church / gathering.
Acts.4: 34. Neither was there any among them that lacked: for as many as were possessors of lands or houses sold them, and brought the prices of the things that were sold,
:35. And laid them down at the apostles' feet: and distribution was made unto every man according as he had need.
Now, here's the layout of today's religious church; eighty – ninety percent of believers are in great lack. The other percentage that have substance (lands, houses, money, etc;) looks down their noses at those that don't have. Whatever financial offering is taken at the gathering is collected and stored away and is primarily used to cater the needs of the religious leader.
The opposite of true conversion is Hypocrisy which gives way to every kind of ungodly spirit such as; lying, deceitful practices, greed, selfishness, etc.
Watch this !
The many lies that are being told in the Lord's name and deceitful practices that's taking place in today's church is about to be exposed as follows.
Acts.5:1. But a certain man named Ananias, with Sapphira his wife, sold a possession,
:2. And kept back part of the price, his wife also being privy to it, and brought a certain part, and laid it, at the apostles' feet.
:3. But Peter said, Ananias, why hath Satan filled thine heart to lie to the Holy Ghost, and to keep back part of the price of the land?
:4. Whiles it remained, was it not thine own? and after it was sold, was it not in thine own power? why hast thou conceived this thing in thine heart? thou hast not lied unto men, but unto God.
:5. And Ananias hearing these words fell down, and gave up the ghost: and great fear came on all them that heard these things.
When thou art converted !
For questions or comments contact us at E-mails:pastormallen@yahoo.com or kmfci@live.com or Ph.242-441-2021 or 3
Pastors Matthew & Brendalee Allen
Kingdom Minded Fellowship Center Int'l,