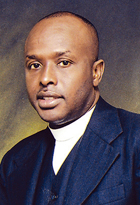 Prov. 28:1. The wicked flee when no man pursueth: but the righteous are bold as a lion.
But the righteous are bold as a lion: This word righteous in the Hebrew is tsaddiyq, tsad-deek'; and it has several meanings such as (1) just, (2) lawful and (3) a man in right standing with his heavenly Father.
The man that is in right standing with God (Yahweh) is bold / fearless as a lion; for this man has the revelation that no weapon and no opposition that is formed or try to come against him shall prosper.
The Lion, the king of the jungle; never retreats and never surrenders, whenever the lion shows up all the other animals give way / make space. When the lion roars even the birds that are high above the ground in trees and on mountain top takes note and pays attention. There is absolutely not that can be compared to boldness of a lion; so when a righteous man or woman shows up and speak out against or any matter (he / she) is revered as that of a lion.
NLT: Deut.33: 20. Moses said this about the tribe of Gad: "Blessed is the one who enlarges Gad's territory! Gad is poised there like a lion to tear off an arm or a head.
: 21. The people of Gad took the best land for themselves; a leader's share was assigned to them. When the leaders of the people were assembled, they carried out the Lord's justice and obeyed his regulations for Israel."
: 22. Moses said this about the tribe of Dan: "Dan is a lion's cub, leaping out from Bashan."
As believers / saints today, it's of the utmost importance that we walk and operate in our God ordained boldness. This boldness can easily be mistaken as arrogance, whereas nothing could be further from the truth; for this boldness is nothing more than confidence being displayed by those who know their identity in Yahshua Messiah (a.k.a. Jesus the Christ).
It's time for those of us who name the name of Messiah to take an authoritative stand against any and everything that seeks to set its self up against the knowledge and principles of God's word. Today, it seems as if the more academically educated church-folks get; the more cowardly and powerless they become.
Watch this !
KJV: Acts.4: 13. Now when they saw the boldness of Peter and John, and perceived that they were unlearned and ignorant men, they marvelled; and they took knowledge of them, that they had been with Jesus.
NLT: Acts.4: 13. The members of the council were amazed when they saw the boldness of Peter and John, for they could see that they were ordinary men who had had no special training. They also recognized them as men who had been with Jesus.
The church today is filled with cowardly (EDUCATED RELIGIOUS CHRISTIANS) that are willing to give up or compromise at the drop of a dime. Unlike the church of old that had unlearned disciples like Peter and John, who under intense pressure and resistance from the opposition, boldly declared the uncompromised word of God.
Here's what the saints said after being threaten by the politically motivated religious order of their day:
Acts.4: 29. And now, Lord, behold their threatenings: and grant unto thy servants, that with all boldness they may speak thy word,
Wow! If there was a hand full of bold disciples of Yahshua Messiah in the Bahamas today, which ever political party governs this country would have and show the utmost respect for the church; but unfortunately this is not the case today as the church is filled with compromising religious Christians.
This compromise is so bad in that we've got F.N.M churches and P.L.P. churches (F.N.M. Apostles, Bishops, Doctors, Pastors, etc; and P.L.P. Apostles, Bishops, Doctors, Pastors, etc;) and if that's not bad enough many of these so-called men of God serves in one capacity or another in their Satanic Masonic Lodges. And those who are not a part of any lodges are busy merchandising the gospel making money.
We've got a nation to build for our children and their children so there's not need to duck and hide; we've got to be bold enough to take a stand for righteousness and call the spade, a spade. The days of playing church are over.
Here's how Yahshua Messiah says it.
Rev.3: 15. I know thy works, that thou art neither cold nor hot: I would thou wert cold or hot.
: 16. So then because thou art lukewarm, and neither cold nor hot, I will spue thee out of my mouth.
The righteous are bold as a lion: And will boldly declare the uncompromised truth against all odds and opposition; as a Pastor I owe my allegiance to Father Yahweh and his son Yahshua Messiah.
Prov.14: 34. Righteousness exalteth a nation: but sin is a reproach to any people.
Prov. 28:1. The wicked flee when no man pursueth: but the righteous are bold as a lion.
For questions or comments contact us via E-mails:pastormallen@yahoo.com or kmfci@live.com or Ph.242-441-2021 or 3
Pastors Matthew & Brendalee Allen
Kingdom Minded Fellowship Center Int'l