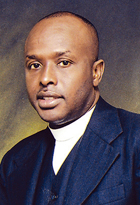 There are two economic plans in the church world!
# 1: God's economic plan for his church benefits the multitude of them that believe, and are of one heart and one soul.
# 2: The Religious economic plan is to construct huge buildings / buy property and to ensure that religious leader / Mand-of-God has no financial / material lack.
The twisted, religious economic plan is so vast, it can be spoken of for an unlimited period of time; whereas God's economic plan is straight forward, its only requirement is faithful obedience.
Let's look at, and talk about plan # 2:
This sickness / disease that are in the religious economic plan can be liken to that of gangrene; if it's not properly addressed, dealt with and cut-out; it has the potential of affecting and destroying an entire body of believers. This sickness / disease is called "The Love of Money / Greed" no matter how we try to down play and ignore this disease, it has and is constantly working its way into every facet of church leadership.
Watch this!
After several years of cooperate fellowship, worship and financially contributing to the purchasing of an edifice / building. When it's all said and done; in most cases the building and property ends up belonging to the religious leader. This is the first stage of the disease showing up in the body. As the disease spreads the congregation takes on a one dimensional / pastoral centric mind-set and before you know it "BAM!" The Pastor, Bishop, etc; has a select crew of persons who passionately spear heads his economic plan.
Please note:
In a pastor centric, religious church there is no room for the proper functioning of the remaining ministering gifts (The Apostle, The Prophet, The Evangelist, and The Teacher), which are given for the perfecting of the saints, for the work of the ministry, for the edifying of the body of Christ.
So here's the rationale behind this selfish, twisted, religious economic plan for the church that primarily benefit the religious leader.
"Every three – four years, the Mand-of God needs a New Car!" Or "If the drug the dealers, athletes and C.E.O.'s of companies can live in million dollar homes, why can't the Mand-of- God?"
Meanwhile, the rest of the congregation lives from pay-check to pay-check, struggling to pay rent, mortgages, utilities, car payments, school fees, etc. Many religious leaders, prominent and not so prominent can often be heard selling their economic plan "If you want what's on my life, you have to sow into my life, or do what I do"
Plan # 1: God's economic plan for his people is so simple and straight forward, it really doesn't need to be dissected and scrutinized as plan #2:
Here it is, let's take a look!
Acts.2: 44. And all that believed were together, and had all things common;
: 45. And sold their possessions and goods, and parted them to all men, as every man had need.
Acts.4: 32. And the multitude of them that believed were of one heart and of one soul: neither said any of them that ought of the things which he possessed was his own; but they had all things common.
: 33. And with great power gave the apostles witness of the resurrection of the Lord Jesus: and great grace was upon them all.
: 34. Neither was there any among them that lacked: for as many as were possessors of lands or houses sold them, and brought the prices of the things that were sold,
: 35. And laid them down at the apostles' feet: and distribution was made unto every man according as he had need.
Take your time, go back and read verse # 35, again!
Please note: The ushers didn't collect the money and took it away into the count room; NO! But rather here's what happen "And laid them down at the apostles' feet: and distribution was made unto every man according as he had need".
Now, obviously we know that times has drastically changed from then to now; but the Holy Spirit which worked through the apostles back then; is the same Holy Spirit today. So then the most logical and reasonable question anybody can ask is this "What has happened to the church, in that; it's not operating to a greater degree than the church mentioned in the book of Acts.2: - 4?"
There are so many answers that can be given to that question and here's one; even though it's a bit painful and for the sake of not want to hurt religious leaders feeling nobody wants to speak the truth. The truth of the matter is that "No distribution is being made unto every man according as he had need, because the money is being hoarded in churches bank accounts to build big buildings and to cater the needs of the religious leaders; who themselves controls the church's check book"
Here's what! You don't have to believe what I'm saying; but check for yourself, the method of operation with which the first century church in the book of Acts operated, and then look at operation of the church today. Ask your religious leader, your Mand-of-God (Bishop, Apostle, Doctor, Pastor, etc) "We collecting tithes and all kinds of different offerings every week, how is it that we're not operating like the church in the book of Acts where distribution was made unto every man according as he had need?
Oh, please forgive me; I forgot to tell you that asking such questions would cause you to be marked / label a trouble maker, and could possibly get you kick out of the church.
Which economic plan are you a part of? # 1.God's economic plan or #2 The Religious plan!!!!!
For questions and comments contact us via E-mails:pastormallen@yahoo.com or kmfci@live.com or Ph.242-441-2021 or 3
Pastors Matthew & Brendalee Allen
Kingdom Minded Fellowship Center Int'l,