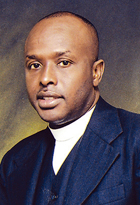 The one sided, twisted, incomplete prosperity gospel that's emanating from many church pulpits today is certainly not of God (Yahweh).

This twisted version of Godly prosperity primarily benefits the religious leaders while the majority of the congregation live a life of waiting for their breakthrough / a life of poverty or just barely making it.


Despite the fact that many church leaders are twisting the word of God for their selfish financial gain. It is the will of God to prosper His people; He takes pleasure in the prosperity of His servants (those who faithfully serve Him).
Here's how David says it !


Psa.35:
27.

Let them shout for joy, and be glad, that favour my righteous cause: yea, let them say continually, Let the LORD be magnified, which hath pleasure in the prosperity of his servant.
God's word is forever true and sure; He watches over his word to perform it. The time that we're living in will dictate / demand that one have a personal relationship with God and faithfully obey his commandments if he or she is expecting to walk in God's prosperity plan.


Are there wolves dressed in sheep clothing among church leadership that are mercilessly fleecing and abusing the sheepfold? Yes, there are! Does this nullify God's prosperity plan?

Absolutely not!
This is certainly not the time to be taken for a ride by ulterior motives religious leaders whose sole purpose is to advance their agenda; if you allow yourself to be taken via religious rhetoric and hype the fault rest solely on you.


1John.4:
1.

Beloved, believe not every spirit, but try the spirits whether they are of God: because many false prophets are gone out into the world.
God wants you to prosper!

The Gospel (The Good News) itself is prosperous to the soul that's living a God fearing / reverence life and has a working knowledge / revelation of God's plan for his or her life:

(NLT: Jer.29:

11.

For I know the plans I have for you," says the LORD. "They are plans for good and not for disaster, to give you a future and a hope).
The gospel is all about prosperity as the entire plan of salvation is God's prosperous plan of redeeming man. The problem we have today is that we've limited the word prosperity primarily to money.


In the Greek the word prosper is:

euodoo, yoo-od-o'-o;

which has several meanings such as (1) to help someone on the road / along the way, (2) to succeed in reaching your destiny, (3) to succeed in business affairs:
A person could have millions of dollars and yet be terminally ill (he / she is not prosperous) or (he / she can be mentally unstable; financially speaking such person is regarded as a multi-millionaire) but not as prosperous.






In spite of the constant quoting of

(Hosea.4:6. My people are destroyed for a lack of knowledge)

by the religious mind-set, many are yet being destroyed / perishing due to their lack of knowledge.

This lack / ignorance of knowledge is liken to a green traffic light to crafty religious leaders that says

"Go ahead, you can financially rape this crew"
How many times have you heard a fast talking, hooping and hacking religious leader throw the following passage of scripture to motivate people to give financially; simply because of the word prosper?


3John.1:
2. Beloved, I wish above all things that thou mayest prosper and be in health, even as thy soul prospereth.


And the itching ears, gullible, naïve religious church folks would shout

"Amen, I receive that."

Whereas

(3John.1:2.)

has absolutely nothing to do with financially prosperity.
Soul prospereth: In the Greek the word soul is:

psuche, psoo-khay';

which speaks to the rational and immortal soul.
Now, let's look at prosperity from the financial blessing perspective!
Here's the true purpose of being blessed by God (especially financially):
Gen.12:
2.

And I will make of thee a great nation, and I will bless thee, and make thy name great;

and thou shalt be a blessing:
Unlike most the so-called anointed religious leaders today, Abraham knew and understood what was meant

"and thou shalt be a blessing"
Gen.13:2. And Abram was very rich in cattle, in silver and in gold.
Gen.26.12. Then Isaac sowed in that land, and received in the same year an hundredfold: and the LORD blessed him.
: 13.

And the man waxed great, and went forward, and grew until he became very great:
: 14.

For he had possession of flocks, and possession of herds, and great store of servants: and the Philistines envied him.
Prosperity in the Hebrew is the word:

shalowm, shaw-lome'; or shalom, shaw-lome';

and it has several meanings: safe (-ly), well, happy, friendly; welfare, good health, peace (-able,-ably) favour, rest, and salute.
A believe that's living a faithful life unto the Lord and obeying His commandments sets himself up to live a prosperous life; and also wealth and riches shall be in our house.
Ps.112:1.
Praise ye the LORD. Blessed is the man that feareth the LORD, that delighteth greatly in his commandments.
:2.

His seed shall be mighty upon earth: the generation of the upright shall be blessed.
:3.

Wealth and riches shall be in his house: and his righteousness endureth for ever.
Saints, contrary to other might say!

God wants you to prosper financially. If under the Old Testament / Old Covenant which was established upon the blood of bulls and goats Abraham, Isaac, Jacob, Job, etc; lived a financially prospered life; how much more under this New Testament / New Covenant which is established upon the blood of Yahshua Messiah (a.k.a. Jesus the Christ), God (Yahweh) would have us to financially prosper?
For too long the body of Christ has been living beneath its privileges, we've attended conference after conference, from one financial seminar to another, and yet still living from pay-check to pay-check.
As disciples of Yahshua Messiah living under this New Covenant with better promises than that of the Old Covenant; it's your covenant rights to live the abundant life

(John.10:10)

Yahshua came that we might have life

"

'

Zoë' the God kind of life

and have it more abundantly, a life in excess, living in the over flow, a life where there is nothing missing and nothing lacking / broken.
Abundantly (Gk) 'Perissos': means, excessive, exceeding abundantly, advantage
God wants you to prosper!
Pastors Matthew & Brendalee Allen
Kingdom Minded Fellowship Center Int'l