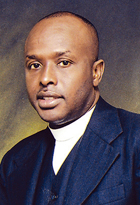 Ps.107: 20. He sent his word, and healed them, and delivered them from their destructions.
There is healing in His word; if you can just receive and believe His word, the miraculous healing power of God (Yahweh) is available to you. The greatest hindrance to God healing power is doubt and unbelief.
We're living in a day and time where the enemy has pulled out all of his deceiving tricks and gimmicks, thereby causing many well meaning saints to live beneath their God ordained privileges and benefits. Satan's chief courier for his deceptive tactics is (erroneous religious teachings) which in most cases are carried out by many religious leaders, who don't rightly divide the word of truth.
Saints, please hear me! Either God's word is real / true or it's not. The time has come for us to stop playing church; and be the church that's bringing glory and honor to His name. Contrary to compromising religious beliefs; there is (dunamis, doo'-nam-is) working power in the word of God.
Watch this!
Matt.8: 8. The centurion answered and said, Lord, I am not worthy that thou shouldest come under my roof: but speak the word only, and my servant shall be healed.
Unbelief and religious stinking thinking has a way of hindering the power / move of God; therefore it's of the utmost importance that those whom you are connected to spiritually be a people of faith, that's if you're expecting a move of God.
Matt.13: 58. And he did not many mighty works there because of their unbelief.
Throughout the scriptures we see where Yahshua Messiah (a.k.a. Jesus the Christ) would often take only three of His disciples (Peter, James and John) with Him when a demand was placed upon His anointing (Lk.8:51, 9:28,). Could it be that these three disciple's faith / belief system was at a higher level than the others?
One of the many tragedies that the plagues today's church is this: The power of the Gospel / Good News is being compromised daily by the incomplete Religious Prosperity Gospel. The primary teachings / messages of the powerless church today is that of (Financial, material blessings and possessions) yet many saints are prematurely dying from all kinds of sickness and diseases.

Can God (Yahweh) heal diseases such as Aids, Cancer, Lupus, leukemia, etc? Yes, He can! But the problem is not with God, it's with our belief system / our lack of faith.
Here's a powerful question that was asked and then profoundly answered!
James.5: 14 . Is any sick among you? let him call for the elders of the church; and let them pray over him, anointing him with oil in the name of the Lord:
: 15. And the prayer of faith shall save the sick, and the Lord shall raise him up; and if he have committed sins, they shall be forgiven him.
The problem with today's church is that it's filled with religious investigators that spend time investigating / talking about the sickness; after which a watered down, weak prayer is offered with this kind of ending "Lord, if it's your will"
Whereas healing for the sick is manifested where the spiritually mature, elders of the church prays the prayer of faith. The lack of faith has brought about an acceptable compromised and questioning of God's word within the church; insomuch that it's readily expected for persons that's stricken with any form of terminal illness to die.
Again, here's what the scripture says:
Ps.107: 20. He sent his word, and healed them, and delivered them from their destructions.
And
Ps.103: 3. Who forgiveth all thine iniquities; who healeth all thy diseases;
For the New Testament church / saints, here's what the bible says concerning the word that was sent: John.1:1. In the beginning was the Word, and the Word was with God, and the Word was God.
And
1John.4: 10. Herein is love, not that we loved God, but that he loved us, and sent his Son to be the propitiation for our sins.
Saints, if you're going to doubt anything; make sure that you doubt your doubts and not the word of God; better still, doubt your religion and everything that doesn't line up with God's word concerning your healing.
Here's what Isaiah says:
Isa.53: 5. But he was wounded for our transgressions, he was bruised for our iniquities: the chastisement of our peace was upon him; and with his stripes we are healed.
He sent his word! Now it's up to you, to receive and believe His word.
For questions and comments contact us via E-mails:pastormallen@yahoo.com or kmfci@live.com or Ph1-242-441-2021.
Pastors Matthew & Brendalee Allen
Kingdom Minded Fellowship Center Int'l,