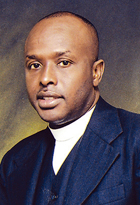 I know that I'm not alone in saying that "I've heard so many pathetic (so-called prophetic words) gone forth as prophecies in the church and at various religious conferences / gathering; and without fail to hear the itching ears, naïve religious folks say "I receive that"
Can I tell you that as a Pastor, I don't say "Amen" to everything that I hear coming from church pulpits, internationally or locally; no matter whom the preacher / teacher might be.
Please hear me!
Not everything that's being preached / taught in the church today is inspired by the Holy Spirit, despite the fact that the presenter may use a few scripture verses. The best way of knowing, if what you're hearing from the pulpit is lining up with God's word; is to know the word of God, not just casually reading a few scriptures; but truly studying the word of God.
Here's how the Apostle Paul puts it to his spiritual son Timothy: 2:Tim.2: 15. Study to show thyself approved unto God, a workman that needeth not to be ashamed, rightly dividing the word of truth.
Note: It's no coincidence that the words "Rightly Dividing" is mentioned in the above passage of scripture. This clearly indicates that the word of God could be wrongly divided, and I dare to say that today; we're seeing the results / impact of the word of God being wrongly divided by many ulterior motives, self centered religious leaders / superstars; thereby causing God to reject the defiled, contaminated acts of worship that's being offered in the church today.
Whenever true knowledge of God comes forth, it will always find opposition and rejection from the spirit of religion and the tradition of men.
Hosea.4: 6. My people are destroyed for lack of knowledge: because thou hast rejected knowledge, I will also reject thee, that thou shalt be no priest to me: seeing thou hast forgotten the law of thy God, I will also forget thy children.
It's time for the saints to grow-up / mature in the things of God and stop allowing themselves to be duped by every wind of doctrine that's infiltrating the church today; especially the twisted, incomplete prosperity gospel.
Don't allow your emotions and present financial state to get the better part of you and your walk with God. The eloquent speaking, crafty religious leaders have set a gullible spirit in the church's atmosphere as they're misappropriating the scriptures to stir up their followers. In so doing, here's one of their most foolish, dumb sayings that literally moves their crowd: "I don't know who I'm talking to, but the Lord told me to tell you"
Here's some food for thought: Where in the scriptures can it be found that the prophets of old were given messages and they didn't know to whom the messages were for? Wake up saints! He that hath an ear, let him hear what the Spirit saith unto the churches!
This twisted, incomplete prosperity gospel that's permeated today's church by the superstars, and want-to-be superstars Religious Leaders can be liken to gangrene; whenever gangrene sets in if it's not immediately and properly treated, amputation is a life saving must. The body of Messiah / Christ is suffering much causality as the amputation; disconnection rate is at an all time high due to the pursuit of prosperity via the twisted prosperity gospel.
The message of the church today is more centered on financial and material prosperity rather than Holy living unto God.
I'm not advocating the rejection and disrespectful scrutiny of God's word; but rather allowing the spirit of wisdom to lead and guide you along the way. In other words, here's how the apostle John puts it.
1John.4: 1. Beloved, believe not every spirit, but try the spirits whether they are of God: because many false prophets are gone out into the world.
Do you know that there was a time when Yahshua Messiah (a.k.a. Jesus the Christ) was the center of attention of the local churches / congregations; but those days are quietly slipping away as the Religious Bishops, Apostles, Doctors, Pastors, etc; have taken preeminence of the church?
Watch this!
Have you ever attended a church and upon entering the foyer or sanctuary of that church building you're greeted with a hanging / posted photo of the religious leader and their spouse? The ignorance to spiritual matters would have many to believe that nothing's wrong with this; as they would have no problem in declaring that "we're just honoring our Mand-of-God and our Woman-of-God; the founders of this church"
To this is strongly disagree and boldly say no! It's a blatant act of ignorance to spiritual matters that's been methodically set in place by the enemy as he spiritually lures the church to sleep. If the truth be told you would be surprised at what most people who name the name of Christ come into agreement with in saying "Yes, Lord, I receive that !"
The enemy and the gates of hell have strategically put their plans in motion; in an attempt to stifle the church. In watching the operation of today's religious church, it's no longer Christ (Yahshua Messiah) the founder of the church; the religious Bishop, Apostle, Doctor, etc; have taken that position. But, as for the true church of Messiah here's what He says " Matt.16:18. That thou art Peter, and upon this rock I will build my church; and the gates of hell shall not prevail against it".
Do you know that there are well meaning believers who have accepted and are dancing around Satanic Pentagrams in their churches? And yet as so-called prophetic words goes forth from these pulpits, their naïve followers are saying "I receive that"
Here's what the Apostle Paul would ask most of today's church
"Gal. 3:1. O foolish Galatians, who hath bewitched you, that ye should not obey the truth, before whose eyes Jesus Christ hath been evidently set forth, crucified among you?
Be careful of what you're receiving !
For questions and comments contact us via E-mails:pastormallen@yahoo.com or kmfci@live.com or Ph.242-441-2021
Pastors Matthew & Brendalee Allen
Kingdom Minded Fellowship Center Int'l