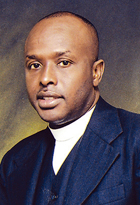 With over four thousand (4,000) religious denominational and none denominational churches in the Bahamas and most of these churches can be found in little Nassau; unknowingly one would believe that there's a great fear of God (Yahweh) in the Bahamas.


Now, before going any further; just the above statement would and have already offended those of a religious mind-set.
There is a small sense of reverential fear of God among SOME, and this fear in most cases is displayed for public amusement during some televised church service. One may asked, where am I going with this? Or how can I say such things?
Well, I'm glad you've asked, and here's where I'm going!
I'm going directly to the root that's producing the various ungodly fruits that we're now harvesting here in the Bahamas (Murders, other serious crimes, dysfunctional families, social ills, etc;). I can speak this way because I'm free

(John.8:
36. If the Son therefore shall make you free, ye shall be free indeed).
Free from the opinions and views of others.


I've accepted this truth, as it's been proven every day.

"Declaring the uncompromising, unadulterated word of God as the Holy Spirit leads will always put you on the opposite side of religion and the tradition of men"
It's very easy to point fingers at the government, the drug dealers, web-shops and other groups / agencies and cast blame towards them for the anarchy and chaos, the laws of deterioration that's taking place in our land. But, if the truth be told; God (Yahweh) is holding the church-leaders responsible, and those who name the name of Christ / Messiah.
Here's one of the most quoted passage of scripture throughout the length and breadth of the Bahamas, and yet church-folks continue to do as they please; and seek to blame everybody else for the sickness / wickedness in the land.
2Chron.7:
14. If my people, which are called by my name, shall humble themselves, and pray, and seek my face, and turn from their wicked ways; then will I hear from heaven, and will forgive their sin, and will heal their land.
Here are some classic examples of No fear of God!


1. A church leader (Bishop, Apostle, Pastor Doctor, Prophet,) can continually live an unholy lifestyle [homosexual, adulterous, lying, etc;] and boldly gets up in the pulpit to preach the word of God; and after preaching the lifestyle continues (No fear of God).


2. Church leaders that will say

"The Lord told me to tell you"

when the truth is God did not tell them anything; but in order to emotionally move the crowd, these church leader have no problem in telling lies in God's name (No fear of God).
How do we expect the youths of the nation to follow and obey the word of God; when the church leaders don't follow and obey God's word? I'm ultimately convinced that a great percentage of today's church leaders really don't understand the true significance of the word LEADER; as many of them are asking

"why are the people / their followers acting, behaving as they're doing?"

Here again, I'm convinced that being a Bishop, a Pastor, a Prophet, an Apostle, etc; is just a well paid occupation to many; and not about true leadership.
There are so many clicks and secret orders among church leadership if it were possible even God's very elect would be deceived. Now, to those that are not deceived your silence gives consent to the abomination that's taking place in the church today.


Don't you know that spirits are transferable?
If my church-leader (Bishop, Doctor, Apostle, Prophet, etc;) is a whoremonger, a homosexual, a liar, a thief, a wife beater, a lesbian and the likes; I'm not only subjecting myself to the transferable power of that spirit, but I'm also subjecting my innocent children.
As for children, the church is supposed to be the safest place there is; but evidently that's not the case today. While we crying about dealing extremely, extremely harsh with pedophiles on the outside that preys upon our children; we conveniently remain silent knowing full well that there are pedophiles, homosexuals, whoremongers, adulterous, fornicators, etc; rampant within the church leadership. Whenever these ungodly practices / spirits are being exposed, confronted a vigorous assault is launch against person God is using to expose these spirits. There are some things taking place in the church today that will make what Hophni and Phinehas did look like a joke (the two sons of Eli, 2Sam.1: - 4:)
Watch this!


2Sam.2:
22. Now Eli was very old, but he was aware of what his sons were doing to the people of Israel. He knew, for instance, that his sons were seducing the young women who assisted at the entrance of the Tabernacle.
:23. Eli said to them, "I have been hearing reports from the people about the wicked things you are doing. Why do you keep sinning?


:24. You must stop, my sons! The reports I hear among the Lord's people are not good.


:25. If someone sins against another person, God can mediate for the guilty party. But if someone sins against the LORD, who can intercede?" But Eli's sons wouldn't listen to their father, for the LORD was already planning to put them to death.
He that hath an ear, let him hear what the Spirit saith unto the churches:
Pastors Matthew & Brendalee Allen
Kingdom Minded Fellowship Center Int'l,