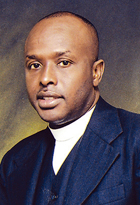 When one is not walking by faith and is not spiritually mature enough to see things through the eyes of faith; it is very easy for him / her to give into what they're seeing and hearing in the natural.
Don't you do it! Don't you dare think about giving in and giving up!
It doesn't matter what you're going through or what everybody is saying concerning you.

It's not over until God says so!


You might have lost your job; the bank is going forward with the foreclosure proceedings of your home, your vehicle may have been repossessed; you've gotten a bad report from the doctor; and every other bill is past due, then to further add insult to injury the marriage is starting to fall apart or a legal / potential criminal matter is on the rise concerning a son or daughter.
These articles are not meant to be your emotional, motivational jolts; but rather they are Spirit led with the expressed purpose of awakening your spirit man to the fact that there's a spiritual battle raging.

And your adversary (Satan) will stop at nothing when it comes to trying to destroy you and gaining the advantage over you.
The weapons that are used in this spiritual battle are not as those used in the natural / military battles of today; here's what the Apostle Paul says about it:

2Corinth.10:
4.

(For the weapons of our warfare are not carnal, but mighty through God to the pulling down of strong holds;)
One of the most powerful weapons that the saints have in his / her arsenal is the weapon of prayer. The ignorance to the power / ability of this weapon is constantly rendering many with the church powerless.
NLT: James.5:16.
The earnest prayer of a righteous person has great power and wonderful results.
: 17.

Elijah was as human as we are, and yet when he prayed earnestly that no rain would fall, none fell for the next three and a half years!
KJV: James.5:16. The effectual fervent prayer of a righteous man availeth much.
: 17.

Elias was a man subject to like passions as we are, and he prayed earnestly that it might not rain: and it rained not on the earth by the space of three years and six months.
As things intensifies and changes in your life and around you; your adversary and his agents are anxiously watching and waiting to see what you're going to do; as they fearfully dread the notion of you using the weapon of prayer.
These are perilous times therefore think it not strange that you're experiencing what you're going through; these times demands that the saints of the most high God

('elyown, el-yone' )

be fully prepared and equip to successfully / victoriously stand their ground.
Here's a must for the saints:
Eph.6:
13.

Wherefore take unto you the whole armour of God, that ye may be able to withstand in the evil day, and having done all, to stand.
: 14.

Stand therefore, having your loins girt about with truth, and having on the breastplate of righteousness;
: 15.

And your feet shod with the preparation of the gospel of peace;
: 16.

Above all, taking the shield of faith, wherewith ye shall be able to quench all the fiery darts of the wicked.
: 17.

And take the helmet of salvation, and the sword of the Spirit, which is the word of God:
: 18.

Praying always with all prayer and supplication in the Spirit, and watching thereunto with all perseverance and supplication for all saints;
As mentioned earlier, it's very easy to get discourage and give up due to what you're facing; but it's imperative that you understand that giving up is not one of your options. God (Yahweh) didn't bring you this far to leave you, He's faithfully watching over His word concerning you to perform it.
Yes, it's rough, it's a bit challenging and there seems to be no relief in sight; the people around you are all speaking of your demise and the systems of today (Banks, Employment, Government, etc;) all appears to be working against you.

If this is your position / situation this makes you a prime candidate for a mighty move of God; hold on maintain your integrity as Job did in the midst of all his troubles.
Here's what the bible says about David when he returned home to Ziklag from the battle field and the people talked about stoning him due to their lost:

(1Sam.30:
6.

And David was greatly distressed; for the people spake of stoning him, because the soul of all the people was grieved, every man for his sons and for his daughters: but David encouraged himself in the LORD his God.)
If there's ever a time that you've got to encouraged yourself in the Lord; that time is now. Don't waste precious moments focusing on the problems, don't get caught up in the political schemes of things and pointing fingers, murmuring and complaining about what the Government aren't doing. God has the final say concerning you and everything that's connected to you, and as He said concerning Jeremiah so is He saying concerning you.
"Jer.29:
11.

For I know the thoughts that I think toward you, saith the LORD, thoughts of peace, and not of evil, to give you an expected end."
Be of good cheer my brothers / my sisters: It's Not Over Until God Says So !
Pastors Matthew & Brendalee Allen
Kingdom Minded Fellowship Center Int'l