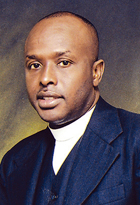 2Tim.
3:1.

This know also, that in the last days perilous times shall come.
Can you stand to hear the truth, or do you wish to continue hearing the religious rhetoric and prophet-lying like:
"I don't know who I'm talking to in here, but God told me to tell you that He's about to bless you with a house, or a car or some other material blessing"
that's being echoed throughout today's church?
As a young man, I didn't grow up in what we call a (Christian home), but I've always had a sense / reverence for the things of God (Yahweh).

Growing up in Coconut Grove when and wherever there was a tent meeting, church service, revival taking place I was there.

I now know that it was God who kept me around to help with the setting up and taking down of the tents after the meetings. I was at every service, every night no matter the denomination; as a matter of fact I didn't know anything about denominations until several years ago.
As a Pastor today, through the leading of the Holy Spirit I do have a much greater sense of appreciation for the word of God as I'm watching the bible being fulfilled right before my very eyes.


Watch this!


NLT: 2Tim.3:2.

For people will love only themselves and their money. They will be boastful and proud, scoffing at God, disobedient to their parents, and ungrateful. They will consider nothing sacred.
I know that I'm the least of the least when it comes to being an educated person (especially here in this educated Bahamas), but one need not be a seminary graduate, a Harvard Scholar or a rocket scientist to understand the above passage of scripture; just simply observing what's taking place in our society on a daily bases makes the scriptures come alive.


What is also most frightening; is that some of these actions / behavior are found right in the church. Yes, right in the church, right among the supposedly anointed, Holy Spirit filled, tongue talking, bible toting, scripture quoting saints or should I say "Aints".




Based upon the word of God, let's continue looking within and outside of the church and as you're reading this article; you answer this question.

Are we living in the last days? Are these perilous times?
NLT:2Tim.3:
3.

They will be unloving and unforgiving; they will slander others and have no self-control; they will be cruel and have no interest in what is good.
The daily increasing murder rate is a direct reflection of the unloving and unforgiving nature / spirit that is so rampant in our society.

One of the easiest things to do is shift responsibility and accountability especially when things begin to go wrong
I'm constantly hearing religious leaders casting blame upon the government for the deterioration of our society and family values; yet these same religious leaders are looking to the government for programs to deal with the many ills of our society.

But, if the truth be told; the fault for the law of deterioration that exist within the family cannot and should not be laid at the government's feet; but rather at the doors of the church, at the church leader's feet.
The church is now being led by cunning, crafty and selfish religious leaders with ulterior motives who through trickery and gimmicks have wormed their way into the hearts of many; rather than Holy Spirit led church leaders.
Here's how the Apostle Paul says it!
NLT:2Tim.3: 5. They will act as if they are religious, but they will reject the power that could make them godly. You must stay away from people like that.
:6.

They are the kind who work their way into people's homes and win the confidence of vulnerable women who are burdened with the guilt of sin and controlled by many desires.
These are perilous times, but no matter how the enemy flexes his muscles and uses those leaders who makes themselves available to him; God, will always make a way of escape for those who sincerely call upon and trust in Him.


There is a move of God that's about to hit this Bahama Land like never, ever before.

Exposure is coming to the church in such a way that many will hold their heads and publicly scream / cry out to God for mercy.

As we come to the end of this article, I strongly advise that you take stock of your spiritual intake.

The time has come and gone for us to continually turn our heads and close our eyes to the spiritual wickedness in high places.

The enemy truly loves the ignorance of church folks when it comes following twisted / wicked religions and traditions of men. Most religious church folks would wholeheartedly obey their various denominations, and when it's convenient they will partially obey the word of God.
It's time for the church to awake from its sleep and slumber; it's perilous Times.
Pastors Matthew & Brendalee Allen
Kingdom Minded Fellowship Center Int'l