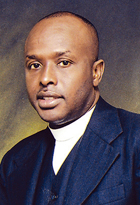 Our nation (The Bahamas) is rapidly spiraling out of control; as communities are being inundated with murders, other serious crimes and the rapid deterioration of the family structure (Father, Mother & children). The logical question to be asked is "What impact is the church making in its community?"
Whenever any kind of questions with regards to accountability of the church is being asked, an immediate defensive position is taken by various religious leaders; in most cases this position is the result of a guilty conscience.
On any given day in watching church services on the local television one need not be a seminary graduate or Spirit led believer to discern that the messages that's coming forth from the pulpits today are more emotionally led, materialistic centered messages. There was a time when Spirit led church leaders preached messages of holiness, love, righteousness, sanctification, etc; but those days and messages are long gone; they are things of the past.
The void of the Holy Spirit's presence in today's church has been filled with the spirit of emotions; of which one of its traits are religious leaders competing against each other as they strive to master the art of emotionally motivating their followers.
This void of / disconnection from the Holy Spirit will always lead religious leaders to take blind stabs and guesses at things pertaining to the Holy Spirit. How many times have you heard something like this from the pulpit? "I don't know who I'm talking to in here in; but God told me to tell you"
Don't take my word for it, but check the scriptures for yourself; from the Old to the New Testament. Nowhere can it be found where God (Yahweh) gave a message to His prophets and they didn't know who the message was for. But it seems as if the god of today's religious church has a major problem in determining who the recipients are for these pathetic (so-called prophetic messages) that the naïve, gullible, itching ears people are receiving.
My brothers and sisters, I know that the above statement / remarks won't sit well with today's religious leaders; but I would rather have every religious leader throughout the length and breadth of the Bahamas angry at me for declaring the truth; than to have God displeased at me for not declaring the truth / His word.
With the sincerity of my heart; hears what I'm humbly saying to every church leader "Preach the Word, and then let's live what we're preaching"

Here's what the Apostle Paul said to Timothy (his spiritual son):
KJV:
2Tim.4: 2. Preach the word; be instant in season, out of season; reprove, rebuke, exhort with all longsuffering and doctrine.
NLT:
2Tim.4: 2. Preach the word of God. Be persistent, whether the time is favorable or not. Patiently
Watch this !
The religious rhetoric that we're hearing in today's church is exactly what Apostle Paul warned Timothy of, and to avoid.
KJV:
1Tim.1: 4. Neither give heed to fables and endless genealogies, which minister questions, rather than godly edifying which is in faith: so do.
NLT:
1Tim.1: 4. Don't let people waste time in endless speculation over myths and spiritual pedigrees. For these things only cause arguments; they don't help people live a life of faith in God.
The Message:
1Tim.1:4. Apparently some people have been introducing fantasy stories and fanciful family trees that digress into silliness instead of pulling the people back into the center, deepening faith and obedience.
The gospel is good news to the poor, to the sick and shut in, to the downtrodden; and that good news is one of prosperity.
To the poor: 2Corinth.8: 9. For ye know the grace of our Lord Jesus Christ, that, though he was rich, yet for your sakes he became poor, that ye through his poverty might be rich.
To the sick and shut in: Isa.53:5. he was wounded for our transgressions, he was bruised for our iniquities: the chastisement of our peace was upon him; and with his stripes we are healed. it
Bishops, Apostles, Doctors, Pastors, etc; it's not too late! Let's start preaching / teaching the uncompromising word of God; away with the fancy, entertaining messages. People lives are at stake; the preaching about cars, houses, money and other material things can't do anything for the salvation of a lost soul.
The greater percentages of our young people are choosing the night clubs and other ungodly habits partly due to what they're seeing and hearing from and in the church (The incomplete / twisted prosperity gospel) that primarily benefits the religious leaders.
As pastors, it's very easy for us to cast the total blame upon the devil for the path many of the younger generation are taking and staying away from the church; whereas we know that there are wolves / hirelings in the pulpits that are heavily contributing to this problem.
As we preach the word of God, here's the prosperity gospel / message in action: Acts.2: 44. And all that believed were together, and had all things common;
:45. And sold their possessions and goods, and parted them to all men, as every man had need.
:46. And they, continuing daily with one accord in the temple, and breaking bread from house to house, did eat their meat with gladness and singleness of heart,
For questions and comments contact us via E-mails:pastormallen@yahoo.com or kmfci@live.com or Ph.441-2021 or 3.
Pastors Matthew & Brendalee Allen
Kingdom Minded Fellowship Center Int'l