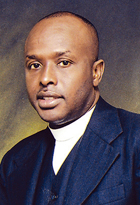 The problem with Yahshua Messiah (a.k.a. Jesus the Christ), is that He didn't fall in line with the religious order of Hid day; He always did and said things that would totally upset the religious leaders.


Despite the fact that all of this is evident throughout the scriptures, if Yahshua was to walk the earth today as He did back then; the religious leaders would have even greater problems with Him; first of all because they wouldn't know Him due to their re-conceived erroneous religious teachings / stinking thinking, and secondly He notably speaks out against hypocrisy of which they've taken to a totally different / higher level.
The problem with Yahshua is that even as an invited guest He would say things that would change the entire atmosphere of a religious function.


Hypocrisy, corruption and wickedness is so well dressed and covered up in today's religious order; the religious Bishops, Apostles, Pastors, etc; would never invite Yahshua Messiah (a.k.a. Jesus the Christ) to speak at any of their functions.
Here's the discourse of a simple dinner invitation:
Lk.11:
37.
And as he spake, a certain Pharisee besought him to dine with him: and he went in, and sat down to meat.
: 38.
And when the Pharisee saw it, he marvelled that he had not first washed before dinner.
: 39. And the Lord said unto him, Now do ye Pharisees make clean the outside of the cup and the platter; but your inward part is full of ravening and wickedness.
: 40. Ye fools, did not he that made that which is without make that which is within also?
: 41. But rather give alms of such things as ye have; and, behold, all things are clean unto you.
: 42. But woe unto you, Pharisees! for ye tithe mint and rue and all manner of herbs, and pass over judgment and the love of God: these ought ye to have done, and not to leave the other undone.
: 43. Woe unto you, Pharisees! for ye love the uppermost seats in the synagogues, and greetings in the markets.
: 44. Woe unto you, scribes and Pharisees, hypocrites! for ye are as graves which appear not, and the men that walk over them are not aware of them.
People! You can continue to play religious church and get your emotional high / fix, with the mind-set that God (Yahweh) is pleased with your acts of worship. Meanwhile the enemy is wreaking havoc in the homes of many within and outside of the church.
The church has become nothing more than a big business / money making cash cow as religious leaders are becoming millionaires via fleecing their naïve sheepfold / members who live the poverty lifestyle. Therefore people both far and wide takes a delight in announcing that they're going in the pulpit; and makes no excuses as to their reasons of the same (to get rich !).
What has given way to this blatant disrespect for God's sacred office? Corrupt, wicked, ulterior motives religious leaders have!
Don't take my words for it; but stop for a few minutes and study (don't just read it), but study Yahshua's interactions with the religious leaders of His day. He saw the condition of the people (both spiritual and natural condition) and how the religious leaders were using the word of God / the Law to take advantage of and suppress them.
Therefore He didn't mince His words when speaking to and about the religious Scribes and Pharisees. Have you ever wondered why Yahshua never called the religious leaders "My Fellow Brothers?" but rather He often called them "Hypocrites, brood of vipers, fools, etc"
Would today's religious leaders have a problem with Yahshua Messiah (a.k.a. Jesus the Christ)? Would they invite Him to their conferences, their book signing, church anniversaries, Pastors appreciations, etc?
Yahshua would go places where today's religious leaders wouldn't dare go; He would spend quality time with sinners in showing them a better way of life. Member of the communities where most mega churches are located would almost have to jump through hoops to see the Superstar Religious Leaders.
Here are some of the hoops!
"Why do you need to see Bishop? Do you have an appointment? Apostle is busy right now; his schedule is booked for the next three months, etc;
Matt.24:
38. For as in the days that were before the flood they were eating and drinking, marrying and giving in marriage, until the day that Noe entered into the ark,
: 39. And knew not until the flood came, and took them all away; so shall also the coming of the Son of man be.
Declaring the uncompromised, Spirit led truth of God's word will always land such person on the opposite side of those who readily acceptance of erroneous religious teachings and the twisted / incomplete prosperity gospel that primarily / financially benefits religious leaders.
Continue declaring the truth, worry not that religious leaders would have a problem with you; for you are in good company. They also have a problem with Yahshua Messiah.
May the FOG (Favor of God) be with you always:
Pastors Matthew & Brendaleen Allen
Kingdom Minded Fellowship Center Int'l