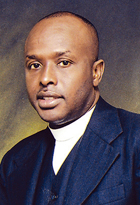 Prov.18:
10.

The name of the LORD is a strong tower: the righteous runneth into it, and is safe.
The enemy / Satan knows full well of the power and authority that lies within the name of the Lord (Yahweh), he / Satan also knows that if he could distort or cause the true name of the Lord to be hid from or not known by today's church; he would be able to gain a great advantage against the saints.


Satan has, and to this very day is methodically using religion to keep or hinder believers from coming into the true knowledge of the name of the Lord.

For centuries this deceptive work of distorting the name of the Lord has been well carried out /executed.

A GREAT percentage of today's church (especially some Prominent Religious Leaders) will have no problem in telling their congregation

"It doesn't matter what name you call God, he (God) knows that you're talking about Him"
Please hear me!


Even in the natural realm the name of a person, place or thing is of great significant. Follow me for a minute please "If your name is John Brown, and a multimillionaire offers to give you a check in the amount of a million dollars; would it be alright with you if he makes the check out in the name of Junior Rolle or in your correct name?"
The question that's often asked "Why or how it is that today's church is so powerless; no signs and wonders?"


The answer is simple but yet so true and powerful: "Today's church is operating in a powerless, religious name.


Here's what Yahshua Messiah said to the believers:

Mark.16:
17.

And these signs shall follow them that believe; In my name shall they cast out devils they shall speak with new tongues;


:18.

They shall take up serpents; and if they drink any deadly thing, it shall not hurt them; they shall lay hands on the sick, and they shall recover.
Listen!


I know that this article maybe a difficult for many to receive; being that all of your Christian life you've been told and taught that his name is Jesus Christ. And every bible along with whatever religious literature you possess referrers to him as Jesus Christ.


Okay, here's what I wouldn't do, I would not try to convinced or confused you in any form or fashion; I would simply ask that you consider this: "Could there be something about what the NAME that today's religious church don't know?"


Here's what the scripture says about His name ! "Phil.2:10.

That at the name of Yahshua (Jesus) every knee should bow, of things in heaven, and things in earth, and things under the earth;
Please note that

Phil.2:10:

doesn't say "That at the anointing of Yahshua, or "That at prophesies of Yahshua" nor does it say "Due to his eloquent speech every knee shall bow"

No, the scripture says "That at the NAME

of Yahshua (Jesus) every knee should bow, of things in heaven, and things in earth, and things under the earth;
Again, the enemy / Satan would love nothing more than to have you continue with the mindset that

"The name really doesn't matter, as long as you worship"

Sad to say, that this is really the mindset of

today's Christians.


The simplicity and yet (dunamis, doo'-nam-is) power of the gospel / the word of God has and will always confound the wisdom of the wise (especially the religious wise).

Don't you find it kind of strange that today's Religious Leaders are preaching and teaching about everything (mostly, their twisted prosperity gospel which primarily benefits themselves); and yet their churches are powerless in the spiritual realm and making a positive impact in their various communities.


Knowing, teaching and preaching the uncompromised truth of God's word seems not to be a priority of today's religious leaders; as many of them would rather not offend the Religious Orders and their fellow clergymen.

Rather getting to know, teach and preach the truth, today's religious leaders have resorted to preaching and teaching that which will emotionally move their already itching ears, naïve congregations / people.
Here's how important the knowing of the NAME was to Yahshua Messiah:
John.17:
12.

While I was with them in the world, I kept them in thy name: those that thou gavest me I have kept, and none of them is lost, but the son of perdition; that the scripture might be fulfilled.
Ask any of today's Religious Bishops, Apostles, Prophets, Doctors, Pastors, etc; about the name "Jesus Christ" and how it came about, and you will most certainly be surprised at their answer; providing you do get an answer.

Ask them about the letter "J" and the year it came about in the Hebrew alphabet.


Please take note of this:

All around the world / in every language, when one is asked or encouraged to give God the highest praised here's what is said "Halleluyah"

YAH – YAHWEH – YAHSHUA .


To teach and preach the truth, one would have to know the truth; and here's what Yahshua Messiah said about the truth.

John.14:
6. I am the way, the truth, and the life: no man cometh unto the Father, but by me.
There's just something about that NAME:
Pastors Matthew & Brendalee Allen
Kingdom Minded Fellowship Center Int'l