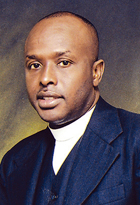 Spiritually disconnected: A classic example of one being spiritually disconnected can be found in the latter days of Eli the priest (2Sam.2:)
Here was a man of God, who was in charge of ministering unto the Lord. One of the first mentioning of Eli the priest being spiritually disconnected is as follows (1Sam.1: 14. And Eli said unto her, How long wilt thou be drunken? Put away thy wine from thee).
Hannah, was having a heart to heart intercessory moment with God; her lips was moving and no voice / sound was being heard, upon noticing Hannah the spiritually disconnected man of God said "How long wilt thou be drunken? Put away thy wine from thee"
It is possible for church leaders today to be spiritually disconnected from God, despite their religious activities? The answer to this question is a resounding, YES.
This disconnection could be so severe to the point that one can be totally denied by the Lord, again; despite his or her many religious performances and duties.
Watch this!
Matt.7: 22. Many will say to me in that day, Lord, Lord, have we not prophesied in thy name? and in thy name have cast out devils? and in thy name done many wonderful works?
: 23. And then will I profess unto them, I never knew you: depart from me, ye that work iniquity.
There are many church leaders who have spiritually disconnected themselves from Yahweh as they went in hot pursuit after money. The spiritual compromise of these once notable anointed men of God has disconnected them from God; thereby they are now known as and have accepted the title and role as motivational speakers.
A spirit being himself, Satan / the enemy is fully aware of the spiritual disconnection of such church leaders / supposedly watchmen on the wall; their love for and pursuit of money; therefore methodically he feeds them their love, MONEY.
Where there was once an anointing in the church / upon church leaders to preach the gospel to the poor; to heal the brokenhearted, to preach deliverance to the captives, and recovering of sight to the blind, to set at liberty them that are bruised, to heal the sick and diseased, and to preach the acceptable year of the Lord; due to the compromise and spiritual disconnection (Ichabod) now fills that place. Where there is no burden removing, yoke destroying power of God present among His people, the enemy will wreak havoc.
Take note of the amount of murders that's taking place, the other heinous criminal acts that's being committed, the suicide rate, school violence, dysfunctional / troubled families, etc; yet the powerless religious churches are having conferences, upon conferences, the religious leaders are all writing motivational books in the promotion of themselves.
Being the wise, all knowing God that he is; here's what Yahweh said to Joshua:
"Joshua.1: 8. This book of the law shall not depart out of thy mouth; but thou shalt meditate therein day and night, that thou mayest observe to do according to all that is written therein: for then thou shalt make thy way prosperous, and then thou shalt have good success"
Watch the spiritual disconnection!
Today, the people are strongly encouraged to buy their religious leaders books and adhere to what is written therein if they want to see / experience God's blessings upon the lives. In other words; here's what the religious Bishop, Apostle Doctor, Pastor, Prophet, etc; are saying "In spite of what Joshua.1:8, says; you also need to get / read, meditate on my book which would help God to bless you"
It is of the utmost importance to your spiritual growth and development that your church leader, the person with whom you're submitting to; is not spiritually disconnected. Now, please; PLEASE hear this!
It really doesn't matter how long your church leader has been saved or how large / small his ministry might be. Spiritually connected stems from one's submissions and obedience to God's commandments. This is where a man of God adheres totally to God's word, he's not tainted by the systems of this world, he's not a pulpit politician, and he's not a pulpit Masonic brother or has not sworn allegiance to some other fraternity, he's totally committed to God.
This spiritually connected man / church leader is one who rules his house well, he treats and loves his wife, as Christ loves the church.
This is certainly not the time for anybody to be spiritually disconnected; whiles I admonish you to give honor, to whom which honor is due; don't make the tragic of staying connected to any church leader that is spiritually disconnected as the priest Eli was (1Sam.3:3-7) who after two attempts didn't relies that it was the Lord calling Samuel.
God wants you to stay connected to Him with a perfect heart, He wants to do the exceedingly, abundantly, all that you can ask or even imagine.
2Chron.16: 9. For the eyes of the LORD run to and fro throughout the whole earth, to show himself strong in the behalf of them whose heart is perfect toward him.
For questions and comments contact us via E-mails:pastormallen@yahoo.com or kmfci@live.com or ph.242.441-2021
Pastors Matthew & Brendalee Allen
Kingdom Minded Fellowship Center Int'l