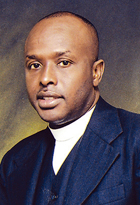 What a woman!
She might not be what others think she could and should be; but she should mean the world to you. She carried you within up to the date she gave birth; late at nights she was up watching over you, early in the mornings and throughout the days her watch continued.
There should ALWAYS be a "Thank you God, for Mom" in your mouth. Mom, saw the greatness that God deposit within you from day one; and despite all of her struggles, ups and downs; she did everything within her power to cultivate that greatness. True, she may not have been the perfect Mom; but she's Mom and that alone is by far enough to demand the utmost respect and honor.
While we acknowledge the selected date that is set aside to celebrate and honor Mom (Mother's Day), everyday is the day to celebrate and honor Mom. We're living in a day and time where mothers are being physically / verbally abused and mistreated by the very children they've given birth too. In some cases, Moms are being put away like Yesterday's News in Old Folks Homes to be cared for by strangers.
Here's some of the excuses / so-called reasons for the ungodly putting away of Moms that gave birth and nurtured the very children that's putting them away.
1. Mom's up in age now and I can't take care of her as she needs to be
2. My work schedule don't allow me the time to be with Mom as I would like to, so I thought to put her in a home where she could interact with others of her age group.
3. Mom has advanced Alzheimer's / Dementia and she's become a burden
4. My husband, my wife or the children thought it would be a good idea if we put Mom in an Old Folks Home, etc, etc, etc;
Watch this!
Here are some things that the ones who are putting Mom away seem not to be concern with or don't know.
1. Mom stood her ground under intense pressure not to have an abortion
2. She faced ridicule and scorn for being pregnant out of wedlock
3. On her knees Mom scrubbed floors, clean toilets, did laundry, etc; to provide for the very ones who are now contemplating or has already put her away
4. Despite the Doctor's report Mom never gave up on them; despite what the teachers and the neighbors had to say, Mom never gave up or gave in.
As you're reading this article, your Mom may have already gone home to glory; but the honor that's due to her is forever with you, extend that honor to a Mother that's alive today. As a husband / father; there's your wife / the MOTHER of your children, the consistent honoring and respect giving to and of this special woman is the key that unlocks the door to God's favor upon the family, and the adhesive that holds the blessings together.
The promises of God upon one's life are tied into the honoring of Moms.
Ex.20: 12. Honour thy father and thy mother: that thy days may be long upon the land which the LORD thy God giveth thee.
Deut.5: 16. Honour thy father and thy mother, as the LORD thy God hath commanded thee; that thy days may be prolonged, and that it may go well with thee, in the land which the LORD thy God giveth thee.
There's no earthly love that can be compared to a Mother's Love; her love is forever extended towards the child / children she gave birth to. Even the so-called worst of the worst among us, that person (he or she) has a mother that loves them. Mothers are special, so special in that whenever they're disrespected / dishonored, God takes it personal.
If you haven't been the son or daughter you should have been to your Mother and she's still alive, it's not too late; go ahead and make Mom's latter days greater than her former days.
Let's celebrate Mother's Day with a greater sense of appreciation and respect for Moms, let's continually give God thanks for our mothers (our wives, the mothers of our children).
What a woman !
Happy Mother's Day to every mother throughout the length and breadth of the Bahamas and around the world; we thank God for you, because without you there would be no us.
For questions and comments contact us via E-mails:pastormallen@yahoo.com or kmfci@live.com or Ph.242-441-2021
Pastors Matthew & Brendalee Allen
Kingdom Minded Fellowship Center Int'l